Vibration sensors
Together with the Danish sensor specialist KP, we offer vibration sensors that support data collection and preventive maintenance.

Works for all standard Hoyer motors
Robust design and easy installation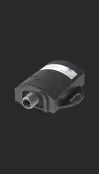 Fungerer til alle standardmotorer fra Hoyer
Robust design og nem montering
KPV100
Bluetooth/Wi-Fi communication
General information
The KPV100 and KPV200 sensors are designed for vibration measurement. The main components of both sensor types are an accelerometer for vibration measurement and a DSP processor for data processing.  An important difference between the two types is the communication output, as the KPV100 uses Bluetooth or Wi-Fi communication, while the KPV200 uses RS485 Modbus communication.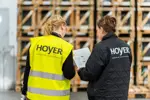 HIGHLIGHTED FUNCTIONS
Wide frequency range – 0-1,600 Hz, 0-800 Hz, 0-400 Hz, 0-200 Hz, 0-100 Hz and 1-50 Hz.
128 Bin FFT output.
Vibration range can be selected from ± 2 g to ± 16 g.
Measures in three directions, X, Y and Z.
Ambient temperature min./max.: -40/+85 °C.
Built-in intelligent alarm system.
Plug and play solution in a robust industrial design.
Product information
The ever-increasing demand for operational efficiency and reduced downtime makes predictive maintenance a valuable tool.
The KPV sensors are multifunctional sensors for both electric motors and applications, such as pumps and fans.
Predict bearing failures and avoid downtime.
Measure application imbalance for improved operation and extended service life.
Flexible solution - same sensor type for all motors and applications.
Long life with no battery changes.
No subscriptions. Customer's property after payment.
A pre-assembled solution is available on all Hoyer standard motors.
Datasheets
Here you can download datasheets for vibration sensor types KPV100 and KPV200
Contact us
Do you have any questions, or do you want to know more about our solutions within vibration sensors? Contact us via below contact form.