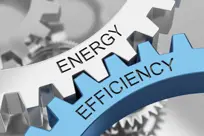 Sustainability: Can you keep up with the increasingly rigorous requirements for energy efficiency?
End-user requirements, new legislation, and a keener focus on sustainability. These are some of the motivating forces behind a steadily greater and more urgent need for energy efficiency. Electric motors consume 66% of industrial energy worldwide, so there is an enormous potential to reduce carbon emissions and save money in the process.
As electric motors consume a substantial portion of overall energy production, the potential benefits of higher energy efficiency are enormous. In the EU alone, roughly 8 billion motors use almost half of Europe's production of electricity. Worldwide, two-thirds of all industrial energy is used by electric motors.
By using more energy-efficient motors, global energy consumption can be reduced by 300 TWh of electricity a year by 2030. The corresponds to the annual consumption of electricity of the United Kingdom. And by contrast – i.e. without comprehensive streamlining – the energy consumed by motors is expected to rise to 13,360 TWh annually up to 2030, which will increase carbon emissions by 8,570 million tonnes per year.
Ambitious end-users
A powerful driving force behind increased energy efficiency is local legislation which continuously stipulates increasingly rigorous demands on manufacturers and suppliers of electric machinery. The EU's most recent revision of its Ecodesign Directive has been in effect since September 2019. The scope of the Directive is expected to be widened even further in 2021 and 2023.
But whereas the increasingly rigorous demands in themselves set ambitious targets, they are only part of the picture. End-users' demands for more sustainable and cost-effective solutions are currently a strong driver of demand for more energy efficient applications. They often go further and faster than the law requires, says Maarten de Beun, Segment Manager, Industrial Pumps, Hoyer Motors.
"In several of our biggest segments, such as HVAC and Industrial Pumps, there are different factors that all aim at greater energy efficiency, such as the UN's Sustainable Development Goals. In many cases, the end-users' financial and environmental priorities actually exceed the statutory requirements and this challenges the OEM manufacturers to keep up. This is exemplified by our having supplied several large-scale projects with IE4 motors."
Focus on total cost of ownership
The focus on energy efficiency is also one of the reasons that more end-users are considering the correlation between purchase price and operating costs when investing in new applications such as pumps, ventilation and hydraulics. In this context, the efficiency of the motor selected plays a key role.
"Based on a 10 to 15-year service life, the purchase price of an electric motor does not exceed even 5% of the total costs of ownership on average. On the other hand, energy consumption accounts for 92% of the total cost of ownership on average. And in many cases, the service life of the motor is even longer. This serves to further illustrate the solid basis for choosing more energy efficient motors," Maarten de Beun says.
IE4 and VFD
Hoyer has a wide range of different tools that can help customers achieve the desired energy-efficiency targets. IE2 and IE3 motors are available as standard models, whereas the asynchronous IE4 motors are manufactured on demand for projects and customised solutions. Motors with integrated VFD can improve the general efficiency of applications by up to 50%, by delivering more precise control and consuming less energy than a conventional system.
Going forward, Hoyer Motors is working to launch a range of IE4/IE5 permanent magnet motors, as this type of motor is even more efficient for several applications than asynchronous motors with a standard rotor.
"Our existing range of IE2, IE3 and IE4 motors and our expertise within VFD solutions means that we are well equipped to be an active energy partner for our customers. We want to support their future higher targets for saving energy and reducing carbon emissions," Maarten de Beun concludes.
Energy efficiency and the Sustainable Development Goals
The UN Sustainable Development Goals (SDG) serve as a common framework for many aspects of efforts to improve energy efficiency. This is particularly true of Goal 7.3, which requires that speed at which energy efficiency is improved must be doubled worldwide by 2030, and Goal 9.4, which requires infrastructure and industry to be upgraded by 2030 to make them more sustainable and to increase the efficiency of resource utilisation.
At Hoyer, we primarily focus on three selected SDGs: 
Goal 7: Sustainable energy
Goal 8: Decent work and economic growth
Goal 9: Industry, innovation and infrastructure