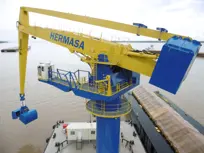 Fixed boom cranes installed in harsh environment call for special motors
Close cooperation during the design phase ensures that cranes are able to operate flawlessly in harsh offshore environment. Crane manufacturer Palfinger Marine has selected Hoyer Motors as the supplier for Palfinger's redesigned series of fixed boom cranes for the offshore wind industry.
As one of the world's leading manufacturers of lifting solutions, Palfinger Marine is quite familiar with the stringent quality requirements for marine and offshore cranes.
So, when Palfinger redesigned the company's series of fixed boom cranes for the updated EN 13852-3 standard, finding a reliable, long-term motor supplier to partner with was a top priority. Palfinger has previously worked with Hoyer as a supplier for multiple applications, including offshore cranes, marine cranes, davits, making Hoyer an obvious choice for consideration.
After close cooperation during the redesign process and an extensive test period, Palfinger selected Hoyer to supply 200+ two-speed brake motors for the new range.
Critical lifting equipment for wind turbines
Fixed boom cranes serve a vital role on offshore wind farms around the world. Mounted on the platform at the base of a wind turbine, the crane is used to handle material transfer between supply vessels and the turbine.
The exposed position in a marine environment means that offshore fixed boom cranes are subject to rigorous requirements regarding quality, coating, safety and documentation. Since the crane is essential when work is being done on the turbine, it is critical that it runs smoothly during use, even after extended periods of downtime. To ensure this, Hoyer leveraged its extensive knowledge of marine and offshore applications while working on the project with Palfinger.
– Cranes for the offshore wind industry have different requirements than standard marine cranes. A fixed boom crane on a wind turbine is used very infrequently, often only once or twice per year. So, it is crucial to ensure that they require minimal maintenance and can be trusted to function reliably when needed, says Mitchel Ruijtenberg, Key Account Manager at Hoyer Motors.
Due to the inherent risks involved with offshore material handling, the crane must also be designed with crew safety and ease of operation in mind.
A modular and global solution
While the basic design of a fixed boom crane is relatively simple, customers often have specific requirements in terms of boom length and reach, crane slewing and lift capacity. Rather than designing multiple crane models, Palfinger has chosen a modular approach which provides substantial flexibility. Unlike other crane types, the modular cranes use purely electric propulsion of the winch. The electromotor is directly mounted on the crane, which makes it a major component that needs extra corrosion protection.

– The redesigned cranes allow for a high degree of standardisation while still being able to quickly accommodate varying customer needs. Consequently, the motors need to come with a certain standard while still being suited for the special environment and the strict quality requirements, says Franz Schnöll, Head of Global Marine Product Management at Palfinger.
Palfinger's fixed boom cranes are installed in wind farms around the world, such as Hai Long (Taiwan) and East Anglia (UK). This means that the motors must be compliant with multiple regional requirements for voltage, energy efficiency and quality standards. In addition, the global distribution requires an advanced logistical setup, both for delivery of new units and for after sales.
– Since this is critical equipment for the turbines, we usually operate under tight delivery time schedules. Different variations depending on the project increase the supply chain complexity which requires our suppliers to have a sophisticated logistics concept. In some cases, we know relatively late which variant we need, so everyone involved must be able to react quickly to project-specific customer requirements, says Franz Schnöll, and continues:
– Throughout the process, Hoyer has contributed to a smooth and uncomplicated partnership with nearly no issues. They have the logistic setup to meet our strict requirements and are able to provide all required certificates. And since several of our other stakeholders and partners are working with Hoyer as well, we gain the added benefit of multiple synergies throughout the value chain.