Open positions
We're always on the lookout for new colleagues. Take a look at our open positions below, and if nothing suits you, please send us an unsolicited application. 
Internal salesperson - Hoyer Munich
Do you want to combine your interest for sales with your technical abilities? And do you wish to work in an international company?
We are looking for a skilled salesperson to B2B sales. As our internal sales colleague you will, among other things, work with order handling, customer service and offer calculation.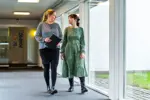 We use an electronic recruitment system at Hoyer. The system can be used to apply for vacancies by entering a few data and then uploading your application and a CV. Your information and CV will be saved for six months in the database we use for recruiting new employees. You can read more about our recruiting process below.
Application
Whenever a job opens up, you can find it on our job portal here on the website, as well as on other online portals such as LinkedIn, job sites, etc.
You apply for the job by following the link in the job posting.

Screening
If your skill sets align with what we are looking for, we will invite you to an interview. If we decide not to invite you, you will receive a rejection by e-mail, no later than by when the open position is filled.

First interview
The purpose of the interview is to clarify whether your qualifications and expectations match our open positions. Usually, your upcoming supervisor will conduct the interview, possibly together with a colleague from the team.
If we assess that you are a good match, you will be invited to a second interview. Otherwise you will receive a rejection letter explaining the reasons for this.

Second interview
The second interview will focus more on you as an individual, and how you match up with our corporate culture and values. Before this interview, you must carry our a personal profile analysis and possibly take a skills test. The resolving of a case study is also frequently used in this interview.

The second interview is also where we draw on references from your previous jobs.

Hiring
Welcome to Hoyer!
If we still think that you are the best match, you will receive a contract to sign.

Preboarding
We stay in touch with you during the time before you start your job. We send you a greeting with information about your future workplace and we are at your disposal to answer your initial questions. You will also receive a plan for your onboarding process in the initial weeks.

Onboarding
Your first day at Hoyer has arrived! You will be welcomed by your supervisor or a colleague from you team.
Together with any other new colleagues, you will be introduced to all the departments at our company, and you will also receive individual training and be introduced to your own team. You will be assigned a permanent mentor from whom you can receive help and feedback.
Contact us
Do you want to cooperate with Hoyer regarding your thesis or similar? Or do you have any questions about how it is working at Hoyer? Please contact us through this contact form.