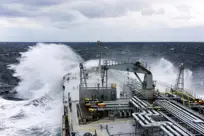 Large stock and strong logistics keeps the ships at sea
When a cargo ship is in acute need of a new electric motor, this should ideally be ready and waiting for it when the ship docks at its next port of call, as the alternative can be extremely expensive. Hoyer is in the process of upgrading its distribution network so that the right motor can be delivered in Le Havre, Rotterdam or Singapore at a few days' notice.
When a ship has problems with an electric motor on the open sea, then the shipowner will generally set course to find a suitable replacement. When it concerns a vital system, such as the lifeboats for example, even a smaller motor can detain a ship in port until the problem has been solved. It can quickly become a costly affair, both in lost income as well as port levies. Ideally then a new motor should be ready to be installed even before the ship reaches its port of call.
The challenge is that a cargo ship can have up to 200 different electric motors on board, and the ship's destination can change at short warning.
High complexity
As Senior Manager for procurement and planning for the shipping company Torm A/S, Helle Hvitfeld is in charge of making sure that the right parts are ready when the ships go into dry dock. She has previously been in charge of the company's day-to-day operations and explains some of the challenges which can arise when servicing a commercial fleet.
"At Torm, we work on getting as many parts as possible into a catalogue, so they are coded into our systems with prices and specifications and are easy to order. It is not quite so easy to put this into practice when it comes to electric motors. Our ships typically have several hundred different motors, and it varies as to what type they are, how they are installed, what size they are and at what shipyard the ship has been built. So we are forced to operate with individual orders on a case by case basis," explains Helle Hvitfeld, who has also been responsible for the cooperation between Torm A/S and Hoyer.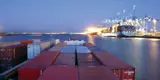 Where is the next port?
Unlike container ships, which sail according to a carefully planned schedule, Torm's ships are trampers that sail with refined oil and without a fixed charter. This means that the route changes from trip to trip, and there are often several possible destinations.
"One of our ships can sail from Bahrain on course to Europe without us knowing whether it will call at Gibraltar or Skagen. So if a motor needs to be replaced, the shipping company sometimes has just 72 hours to locate the exact motor and get it delivered to the right port. This requires a close cooperation with a supplier, which does not only have the necessary specialist expertise but also an extensive inventory and a strong distribution network," Helle Hvitfeld says.
Marine service on three levels
To provide better service to customers such as Torm A/S and other companies in the shipping sector, Hoyer has recently upgraded on several fronts. This means that Hoyer is now in a better position to provide after-sales service, regardless of whether the customer is a major shipping company or one of the selected distributors.
"We are focusing on the marine aftermarket at the moment and are upgrading our activities on three different levels. Firstly, we are working directly with selected major shipping companies. Furthermore, we are expanding our network of distributors and agents, so we can deliver to ports from Houston to Singapore at extremely short notice. Finally, we are building up a presence on online portals that facilitates contact between suppliers, distributors and shipowners," explains Brian Byskov, Global Key Account Manager, Hoyer.