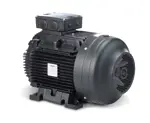 IE4 motors – Premium efficiency now in stock
From October 2020 premium efficiency IE4 motors have been part of the standard stock at Hoyer Motors. Energy efficiency is a main focus area related to CO2 emissions and industrial pollution in general.
"Generally, we see an increasing focus on energy efficiency across all our markets; and of course we want to support the focus on greener solutions which is also high on our agenda," says Ketil Vesterlund, CCO at Hoyer Motors.
To improve the efficiency of electric motors, legislation is put into force across markets. In EU/EEA it is related to the Ecodesign directive which in the future dictates the use of IE4 motors.
From July 1 2023 all electric motors between 75-200 kW commissioned for land-based industrial applications must be IE4 or higher within the EU/EEA. However, several markets and OEM's are already demanding IE4 motors as way to achieve higher efficiency and reduce the total cost of ownership at end-users.
Availability and fast deliveries
Hoyer Motors has in recent years delivered IE4 motors for numerous projects. Now they experience a change in demand where fast delivery of the premium efficiency motors is required. OEM customers request the opportunity to offer energy optimised applications in the market and one way to achieve it is to upgrade the existing motor to an IE4.
"We see an increased need for short delivery times on IE4 motors. By having a complete IE4 range size 80-355 available from stock we improve flexibility and shorten the lead times. It enables us to meet our customers' demands and thereby increase their win-rate in efficiency focused projects," finishes Ketil Vesterlund.
Facts about the Hoyer IE4 stock range
IEC size 80-355
Output 0.75-315 kW
IP55 and insulation class F
Fixed bearing in drive-end and 3xPTC in windings
Hoyer standard coating C3L