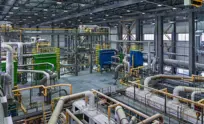 ATEX motor tames toxic gasses
A 400 kW ATEX motor from Hoyer pumps toxic gasses out of a Czech chemical factory. The motor was one part of the order when the close cooperation with the Czech fan manufacturer KUBÍČEK VHS was manifested via a delivery to the chemical industry.
Special industrial environments require special equipment. This was the premise when Hoyer launched the project concerning the delivery of two large motors for its Czech partner KUBÍČEK VHS in January 2015. The fan manufacturer needed 400 kW electric motors for two fans as part of a delivery of a ventilation system to a Czech chemical factory. Here, the fans are used to pump out gas in connection with toxic cyanide production, and this has called for certain modifications to one of the two motors:
"What characterises this order is that both motors will be used at a chemical factory with high quality and documentation requirements. This means that one of the motors is a non-sparking Ex nA model, while the other is a standard model. In addition, both motors are fitted with forced ventilation, current-insulated bearings for frequency converter operation and roller bearings for belt drive, and the motors themselves are very powerful," says Adam Slupinski, Country Manager, Hoyer.
Strong ties between two family-owned companies
In June, when Hoyer delivered the two motors to KUBÍČEK VHS, it was neither the first nor last time the two companies would work together. Since 2012, Hoyer has delivered motors to the Czech fan manufacturer, which has experienced solid growth since its establishment in 1991. According to KUBÍČEK VHS' Sales Director Jakub Spicka, the reason for the many orders is Hoyer's core product and service:
"When we chose Hoyer to be our supplier, it was primarily because of their products, which are high quality and highly adaptable. At the same time, Hoyer offers short delivery times, great flexibility and, last but not least, professional and personal customer service," he says.
Like Hoyer, KUBÍČEK VHS is a family-owned company, which may explain why the two companies have found common ground across Europe. In the process, the trust between the two has grown over the years:
"I truly believe that mutual trust has to be the basis of any partnership. This is also true of the cooperation between KUBÍČEK VHS and Hoyer, which has been very successful for a number of years now. The proof lies in the fact that the volume of standard orders is rising annually and that we are cooperating more and more on specific individual projects, such as the two 400 kW motors," Jakub Spicka says.
The east European market gets greater support
As a natural consequence of the increased cooperation with KUBÍČEK VHS and other Czech customers, Hoyer intensified its focus on the Czech market in 2015, e.g. by employing a Czech-speaking sales engineer at its headquarters in Denmark. Here, he helps the rest of the east European Country Team to collaborate with KUBÍČEK VHS and Hoyer's other customers on these markets.
KUBÍČEK VHS facts
Founded in 1991 by Karel KubíčekHeadquarters in Velké Losiny, north-east Czech RepublicManufacturer of Roots compressors and fan units for a number of industries, including agriculture, food and water purification
Specialised products for aspiration, compression and transport of explosive and caustic gasses
Employs approx. 100 people
Delivery facts
A standard 400 kW motor
A non-sparking 400 kW motor in accordance with II 3D Ex tc IIIB T120/II 3G Ex nA IIC T3
Both motors are fitted with forced ventilation, current-insulated bearings and roller bearings
Hoyer: explosion-proof electric motors