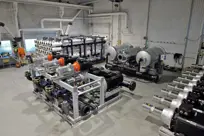 From salt water to fresh water through pure pressure
Norwater, a Norwegian supplier of maritime equipment uses a so-called reverse osmosis technique to convert salt water to high-quality fresh water. In addition to supplying clean drinking water, the technology is useful for chemical tankers and the salmon farming industry.
When the crew on board a ship or offshore platform need fresh water, they often use a system designed by the Norwegian company Norwater to get potable water right from the sea by pressing a button.
The salt water is filtered using reverse osmosis (RO) technology through a pressurised (65–75 bar) membrane. Water molecules can pass through the membrane, but salt, impurities and contaminated substances are separated off. This results in clean fresh water for drinking, cooking, washing up and showers. On chemical tankers, a two-step RO system can be a good investment for ensuring an adequate supply of very clean fresh water for cleaning the chemical tankers between each transport.
"Reverse osmosis technology will usually be the most ecofriendly and, in many cases, cheapest source of fresh water as well. The alternative source of fresh water on ships is an evaporation system using surplus heat from the main engine. This is a costly solution when fuel costs are high. The technological development of main engines also makes them more efficient which reduces the amount of surplus heat for fresh-water production," says Per Einar Gjerding, CEO, Norwater A/S.
Fresh water for healthy salmon
Since 2005, more than 400 systems have been made at Norwater's production facility along the west coast of Norway and dispatched to customers all over the world. Ships and drill rigs have been Norwater's core market for years, but recently, the salmon farming industry has prompted a rising demand for fresh water production, and Norwater has become a market leader in supplying reverse osmosis to the salmon farming industry and transport ships for live fish.
"This industry primarily uses fresh water to prevent salmon lice and amoebic gill disease and usually requires large volumes of water compared to more conventional uses as drinking water on board ships or drill rigs. A definite alternative would be to collect and transport fresh water from on land to the fish farm. But challenges such as limited availability, long distances and costly transport often make an RO system the best choice," Per Einar Gjerding says.
Ronja Storm, the world's biggest transport ship for live fish, is currently being built in Leirvik, Norway. It will be equipped with Norwater's biggest system so far, comprising four identical RO units with a combined capacity of 16,800 m³/day or 700 m³/hour.
Facts about Norwater AS
Norwater's headquarters are located long the west coast of Norway between Bergen and Haugesund.
Norwater was founded in 1995 and manufactures fresh-water systems (NorWater) and safety equipment (NorBarrier) for ships and drilling rigs that are used in the fish farming, maritime and offshore industries.
More than 400 NorWater systems are being used all over the world by major customers like Equinor/Statoil BP, Seadrill, Odfjell Tankers, Sølvtrans, Rostein and Tassal.
Hoyer Motors is Norwater's preferred supplier of electric motors for their high-pressure pumps.