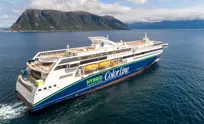 Hoyer Motors aboard an award-winning, ecofriendly hybrid ferry
At the Nor-Shipping trade fair in 2019, the biggest hybrid ferry in the world – M/S Color Hybrid – was named "Ship of the Year 2019". The award for this ecofriendly vessel signifies a new era in the maritime sector and sends a clear signal about the industry's commitment to reducing carbon emissions.
The passengers aboard M/S Color Hybrid enjoyed the maiden voyage on the world's biggest plug-in hybrid vessel on 16 August 2019, without being inconvenienced by noise or emissions from diesel engines. The 16-metre-long RoPax ferry is powered by a 65-tonne battery which enables it to sail at a speed of 12 knots in almost complete silence. A shore-based power system at Sandefjord can charge the 4.7 MWh battery in just one hour.
Passengers and crew can pride themselves in being aboard a ship that is both ecofriendly and has won awards. M/S Color Hybrid was named "Ship of the Year 2019" at the Nor-Shipping trade fair in Norway on 4 June 2019, at which HRH Crown Prince Haakon awarded the prize to Gunvor Ulstein, CEO, Ulstein Group, that had built the vessel.
IMO (International Maritime Organisation): Hybrid vessels must be certified
Innovation is one of the key criteria for being named Ship of the Year, and M/S Color Hybrid definitely has many innovative features. Besides its ecofriendly propulsion system, M/S Color Hybrid is equipped with an efficient heat-recovery system and waste management system that makes it possible to use the ship's waste to generate heat and electricity at bio power plants on land.
These examples of innovation were recognised not only by the jury awarding the prize, but also by the International Maritime Organisation (IMO). The IMO has an ambitious strategy on the reduction of GHG emissions from ships.
"We need to find innovative solutions to meet the ambitions laid out in IMO's introductory strategy on the reduction of GHG emissions from ships. Obviously we need to move away from coal to achieve the agreed targets, and to achieve this hybrid ferries and other means of reducing carbon emissions must be recognised," says Natasha Brown, IMO spokesperson.
The strategy requires a significant reduction in carbon emissions
The IMO strategy aims to reduce coal-fired power in international shipping by at least 40% by 2030 and endeavours to reach 70% by 2050, compared to 2008. Total annual carbon emissions from international shipping should be reduced by at least 50%. In addition, IMO has already implemented mandatory measures to make ships more energy efficient. Pursuant to the rules in the Energy Efficiency Design Index (EEDI), new ships built after 2014 must be up to 30% more energy efficient by 2025, as described in the phase 3 requirements.
In addition to the EEDI rules for new ships, all ships must have a Ship Energy Efficiency Management Plan (SEEMP) which requires the ship to examine what can be done to improve energy consumption, such as improved voyage planning, more frequent cleaning of the propeller and underwater ship components, and the installation of recovery systems for residual heat or air friction systems.
"Achieving the targets of IMO's carbon emission strategy will require a combination of technical, operational and innovative solutions that can be used on all ships. These range from alternative fuels to optimising port calls, hybrid operation, improved hull cleansing to reduce friction, and more," Natasha Brown says.
About Color Hybrid
Color Hybrid was delivered on 1 August 2019 and will serve Norway's Sandefjord–Strömstad route.
The ship is 160 metres long and 27.1 metres wide
It has a load capacity of 2,000 passengers and 500 passenger cars
It was built by the Ulstein Shipyard for Color Line
Several Hoyer motors are installed in Color Hybrid which power engine-room pumps.