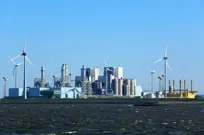 170 Hoyer's motors power a floating power plant
When the pumps on a sailing power plant generate power on the open sea, they will do this using 170 electromotors from Hoyer on board. Strong, long-term relations with a German partner resulted in this interesting special order.
It requires tremendous pumping capacity and thus motor power for a single ship to generate up to 486 MW on the open sea. That is precisely the case for the power-producing ship for which Hoyer recently received an order. Hoyer will be delivering a total of 170 motors for their German customer, which will manufacture the pumps for a large, specially designed ship containing a complete power plant driven by diesel power.
Tremendous power on the open sea
The vessel that Hoyer is providing motors for works like a floating power plant that generates high-voltage electricity. By connecting to a given country's high-voltage network, the large ship can supply refineries or other land-based customers with electricity for longer periods. On board the ship, Hoyer electric motors will drive a total of 170 pump applications of different types.
"The ship has pumps for many different purposes: for supplying fuel, for the main machinery that drives the vessel, for power generation and for the delivery of lubrication. Our delivery contains electric motors for centrifugal pumps in water applications and a series of screw pumps in the oil applications. It's a highly diverse delivery," says Jon Berggren, Global Key Account Manager for Hoyer, who has a background in the pump industry.
Understanding has led to greater cooperation
The order is the most recent proof that Hoyer is constantly increasing its cooperation with the German pump manufacturer. With quality deliveries on time, Hoyer has proved its worth as a reliable partner over a long period. That is one of the many reasons why Hoyer is highest on the list of external suppliers in marine and offshore. Jon Berggren explains:
"I see it as an important strength that we at Hoyer understand our partners and their role as supplier to the end customer. Our lasting support and strong logistics mean that we are a partner you can rely on one hundred percent. And as a special supplier, we live up to the strictest requirements and certifications in marine and offshore," he says.
Together with the two other key account managers, Jon Berggren is part of Hoyer's newly established Global Team that was launched to support partnerships with international OEM customers. The objective of the new team is to optimise work in those areas that constitute the basis for Hoyer's cooperation with the global corporations.
Behind the floating power plant
The ships produce between 104 MW and 486 MW
Hoyer will supply motors for 170 different pump applications on the newest ship
The ship supplements a given high-voltage network for periods of between three and ten years
A maximum of 60 days pass from when a ship is requested until it supplies power to the recipient