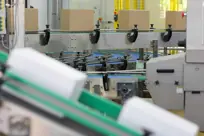 A plug-and-play frequency converter
As a result of Hoyer and Danfoss Drives working together, a solution was devised for their client that was easy to assemble and configure.
Hoyer recently received a quite specific request: a customer wanted to mount a Danfoss VLT® DriveMotor FCP 106 frequency converter directly onto a motor in its conveyor system. As a result of this challenge, a joint effort by our two companies produced a solution that has made life easier for the customer. Fortunately, Hoyer and Danfoss were prepared to find a solution that would streamline the process.
"We already had a close long-standing partnership with the customer for the supply of standard motors. To address the new challenge, we suggested going straight to Danfoss Drives to engineer a tailor-made solution," says Claus Balle Thomsen, Key Account Manager, Hoyer.
An adapter plate fitted the bill
Hoyer contacted Danfoss Drives with their idea that was well received. Hoyer's approach was to modify a standard 7.5 kW electric motor by fitting an adapter plate, so that a Danfoss VLT® DriveMotor FCP 106 frequency converter could be mounted as a plug-and-play solution via a connector. In practice, this meant that the converter could be 'clicked' into place on to the motor, so to speak. The partnership allowed Hoyer and Danfoss Drives to focus on their respective strengths.
"At Danfoss Drives, our speciality is frequency converters – whilst Hoyer are experts in motors. Combining our knowledge allowed us to find a cost-effective solution for the customer. We sent our adapter plates to Hoyer's workshop, where they were mounted on the motors. It is a practical solution that suits applications such as ventilation systems, pumps and conveyor belts where there is no violent shaking of machinery, or an aggressive environment," says Asbjørn Jonassen, Key Account Manager, Danfoss Drives.
The solution as a framework order
With the adapter plate already in place when the motor is delivered, it is a simple matter for the customer's technicians to mount the frequency converter and set the speed via a computer.
"In the specific case, Hoyer takes responsibility for design and modification of the motors, so that they can quickly and easily receive the Danfoss VLT® frequency converters. Other customers may also benefit from the logistical setup: we can offer them the total solution as a framework order, for instance. What this achieves is flexibility – our customers can continue to use Hoyer motors whilst also incorporating their preferred type of frequency converters," says Claus Balle Thomsen.
Facts about frequency converters
A frequency converter allows you to regulate the speed on an electric motor, which normally has a fixed number of revolutions.
Frequency converters are often used to reduce energy consumption, for instance in situations where a pump does not need to be working at maximum capacity. They allow a reduction in speed which in turn reduces power consumption.
Frequency converters are used in all sectors and in a wide variety of applications such as conveyor and ventilation systems, pumps and winches.