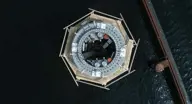 Planetary gear ensures free ship passage past the new bridge
Hoyer's planetary gear, together with SH Group's drive systems, enables Lille Langebro to open and close so ships can pass through the channel.
Hoyer's planetary gear works together with SH Group's drive systems to control Lille Langebro bridge in Copenhagen. Lille Langebro is Copenhagen's new cycling and pedestrian bridge connecting Bryghusgrunden at Vester Voldgade to Langebrogade across the harbour on Amager.
The bridge's opening-type function is possible by means of two rotatable bridge sections that break loose from the rest of the bridge and lay lengthwise along the channel. Technically speaking, the solution for Lille Langebro is called a five-section box-girder bridge solution for dual-cantilevered rotatable sections across the passage section.
The disengagement of the bridge sections is powered by drive systems, also known as yaw systems.
SH Group designed, delivered and installed the two drive systems controlling the bridge's opening and closing function via frequency-controlled braking motors mounted on a planetary gear. This makes it possible to control when the bridge needs to open quickly and when it needs to open slowly. The systems are installed in the two silos that support the bridge at the same time.
Known technology
SH Group has previously delivered similar mechanical opening devices for other bridge systems in Copenhagen.
"The technology is well-known. We've previously made systems that resemble this one, and we use the previous methods and lessons learnt to develop customised solutions every time," says Klaus Rasmussen, Project Manager, SH Group.
SH Group specialises in high-end hydraulic design and automation for advanced bridge systems but it develops solutions for the specific tasks every time, of course.
"The special feature of the Lille Langebro solution is that the components are made of high-strength steel. Lille Langebro bridge's design is light and simple, so it was important to use components made of strong materials, and the result was high-strength steel. It has some mechanical properties that are not found in our standard solutions," Klaus Rasmussen says.
Hoyer Transmission delivered planetary gears and braking motors for the two drive systems. They involved a total of eight gear solutions with reinforced planetary gears that allow higher radial forces than normal. The planetary gear is delivered in four phases, with a 489:1 ratio, by the Italian company Rossi. Each Hoyer braking motor is 15 kW with has a 100 nm brake.
In addition to this project, Hoyer Transmissions and SH Group have also collaborated on systems for a number of other bridges in Copenhagen: Byggebroen, Proviantbroen, Trangravnsbroen, Teglværksbroen, Bryghusbroen and Cirkelbroen. Hoyer Transmissions has delivered the motors driving their hydraulic systems.
At the same time, SH Group has delivered the controls, lighting and electrical works for Lille Langebro.
Facts about SH Group
Established in 1974
Provides high-end technological solutions and services in the area of customised deck machinery and systems for the maritime, offshore and wind industries.
Specialises in high-end hydraulics for bridge systems
About Lille Langebro
Lille Langebro is a new cycling and pedestrian bridge connecting Bryghusgrunden at Vester Voldgade and Langebrogade on Amager. It is part of the effort to support Copenhagen's endeavours to be a cycling city. The bridge opened in early July 2019.