Why work at Hoyer?
At Hoyer, we're keenly aware of current developments. We're an energetic workplace staffing qualified employees in every position. When you work for Hoyer, you join an ambitious enterprise whose catchwords are responsibility, opportunities and trust.
Our headquarters are located in Hadsten, Denmark and Ningbo, China. This means that you will join a global enterprise in which day-to-day communications are conducted in English. Your team will comprise co-workers from 20 different countries, and diversity is one of our strongest values.
Flexibility, diversity and trust
We develop individually, with one another and collectively as an organisation. Your day-to-day tasks will give you scope for personal and professional development.
We are a global company and we are experiencing increased growth. This creates new opportunities at every level. You will receive more than 220 colleagues around the world, and our open communication and strong team spirit will assure you that you will experience collaboration cutting across departments divisions and national borders regardless of time and place.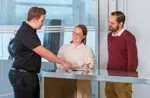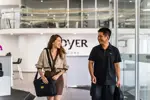 A diverse workplace
We consider one of our most important values to be having a versatile workplace. We want to maintain and continue to develop an international, versatile work culture in which we regard diverse backgrounds, skill sets, ages and genders as advantageous.
We have employees from more than 20 different nationalities and seeing that we want to include as many different nationalities as possible in our organisation, our common language is English.
Employee satisfaction
We continuously work on employee satisfaction. We want to have a healthy workplace based on constructive, open dialogues, clear objectives and strong teamwork across professions, localities and levels.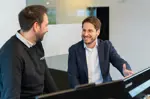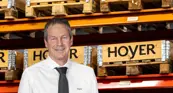 "We depend on one another and the way we collaborate. Regardless of department and position, going to work at Hoyer must be meaningful.
Employee satisfaction is a top priority at all times. We conduct surveys of this at least six times a year after which management and staff alike continue working on solution aimed at improving well-being."
Henrik Sørensen, CEO
Apply for a job with us
We're always on the lookout for new talented colleagues. If you are a consummate seller, passionate technician or skilled artisan, Hoyer might be the next step in your career.
If we don't have any vacancies that suit you, you are obviously welcome to send us an unsolicited application.
Contact us
Do you want to cooperate with Hoyer regarding your thesis or similar? Or do you have any questions about how it is working at Hoyer? Please contact us through this contact form.