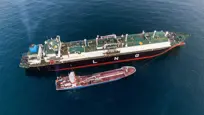 Environmental focus increases the market for LNG/LPG carriers
A rising demand for cleaner energy translates into more orders for carriers of liquefied natural gas (LNG), particularly in South Korea. Hoyer Motors is launching a new range of explosion-proof motors designed to meet the high safety requirements on board LNG carriers.
A rising number of tankers convey liquefied gas across the seas like floating pipelines. As the worldwide search for more ecofriendly alternatives to coal and oil continues, the need for liquefied natural gas (LNG) and liquefied petroleum gas (LPG) has risen sharply over the past decade.
"It all started with the shale gas revolution in the US, after which we experienced a super-trend with worldwide delivery and demand for LNG. The US has invested heavily in LNG liquefaction facilities, as have Australia and Qatar. Most exports go to China that is in the process of becoming the biggest LNG consumer worldwide," says Niklas Bengtsson, Director, Maritime Intelligence, Lloyd's List Intelligence.
Cleaner air and lower ship emissions
The Chinese demand for LNG is driven both by a need for more energy for further economic growth and a need to reduce air pollution by transitioning from coal to gas. Natural gas combustion is cleaner and less carbon intensive. In addition, the stricter restrictions on ship emissions in IMO's sulphur directive have prompted more ships to be converted into operating on LNG, which further stimulates the global demand.
"Shipping companies have three options for complying with the new restrictions for sulphur emissions: using fuel with a low-sulphur content, installing a scrubber system or changing over to LNG-powered ships. The large volumes of cheap LNG available in the US make the latter an attractive choice if a ship frequently calls at ports in the US," Niklas Bengtsson says.
Due to a lack of intercontinental pipelines, LNG and LPG are conveyed primarily by ship, which makes LNG/LPG carriers one of the fastest-growing fleets percentage wise. In order to convey liquefied gas safely, it is stored under pressure at a specific temperature. For instance, LNG must be kept at a temperature of minus 160 degrees Celsius throughout the voyage, which requires high-quality equipment.
New explosion-proof motors from Hoyer Motors
LNG and LPG carriers – as well as ships whose main engine is powered by LNG – must comply with strict safety requirements, which includes having explosion-proof pumps and compressors. With a view to meeting the rising demand from both shipyards and maritime OEMs, Hoyer Motors has launched a brand-new range of explosion-proof motors that are certified to both ATEX and IECEx.
"This new product range enables us to offer our customers a wide selection of motors for applications used on LNG/LPG carriers and in other dangerous areas such as gas pumps, fuel pumps, compressors and reliquefaction systems. These are covered by the usual value proposition from Hoyer that means fast delivery, high quality and easy access to documentation," says Henrik Sørensen, CEO, Hoyer Group.
Premiere at Kormarine 2019
Most of the new LNG/LPG carriers are made at three South Korean shipyards – Daewoo Shipbuilding & Marine Engineering, Hyundai Heavy Industries and Samsung Heavy Industries – with China and Japan receiving most of the remaining orders. This is why Hoyer Motors decided to launch its new explosion-proof product range at the Kormarine 2019 trade fair in Busan, South Korea, from 22 to 25 October 2019.
"The new product range is manufactured at our Chinese facilities, which were recently enlarged, and combined with our strong Asian supply chain, we are very close to most of our prospective customers in the LNG/LPG market. This enables us not only to ensure fast delivery but also provide fast, efficient and local support to our customers," Henrik Sørensen says.
Specifications for the new product range
Installation size: IEC 80–355
Output: 0.18–375 kW
Frequency: 50 or 60 Hz
Industrial or marine design
ATEX and IECEx certified