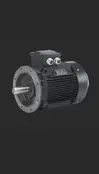 Regulations for Hoyer IE2 industrial motors in EU after 01.01.2015
Due to EU motor regulation 640/2009 there are new demands for motors used on industrial applications for EU markets after 1st of January 2015.
IE3 efficient motors are required in the range from 7,5 kW to 375 kW – both included. IE2 motors can still be used up to 7,5 kW until year 2017 from where all electric motors used inside EU must fulfill IE3 efficiency demands.
Hoyer Motors however offers an alternative for continuous use of IE2 motors above 7,5 kW after 1st of January 2015. When used together with a frequency converter Hoyer IE2 motors fulfill EU regulation 640/2009. Hoyer IE2 VSD motors are prepared for frequency converter drive with special nameplates notifying about the required use of a frequency converter.
The user is responsible for supplying the frequency converter and hereby compliance with the EU requirements. It must be stated by our customers that motors are to be supplied by frequency converter drive and Hoyer Motors disclaims responsibility for the observance of the regulations by our customers.
Hoyer standard IE2 motors produced and stocked before 01.01.2015 can still be used without frequency converter drive in EU. Please contact your local Hoyer sales department for further information about the EU motor regulation and our current stock.