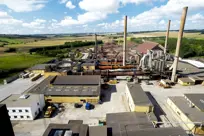 Turning clay into a building material is hard work
It requires high temperatures and robust machinery parts to convert wet and sticky raw claw into lightweight expanded clay aggregate, or Leca®. That is why Leca Denmark stipulates high demands on quality and service life for the machine parts used to feed its rotary kilns, which reach temperatures of up to 1200 degrees Celsius.
Each and every day, a conveyor belt moves about 1000 tonnes of raw clay from Leca Denmark's clay pit to the company's factory in Hinge. Here, a harsh treatment process awaits the moist raw material, which will ultimately transform the clay into the widely known brown Leca® balls and other Leca® products
"A conveyor belt transports the raw clay into the large rotary kilns. Along the way, the clay undergoes through several kneading procedures, until the lumps end up being between the size of a hand and a big boulder.  It is an extremely heavy industry that involves electric motors, gears, couplings and more," explains Maintenance Manager Tonny Hedevang.
The kilns are only turned off twice a year
The temperature in the rotary kilns is around 1200 degrees Celsius. The heat releases thousands of small gas bubbles which are trapped in the clay and give the material its characteristic lightness when the clay is shaped into balls by the kiln's circular motion. Stopping and starting the kilns is an extremely costly operation, so Leca Denmark is keenly focused on preventing breakdowns in the production process.
"We only shut down the kilns for Christmas and the summer holidays to do our regular maintenance. The rest of the year, it's all about keeping them constantly fed. It's really hard on the gears and motors, so we have to have durable equipment. Products and equipment of poor quality and short service lives just won't do," Tonny Hedevang explains.
Close contact to Hoyer
Because of the company's keen focus on operational reliability and fast service, Leca Denmark stays in close contact with their suppliers, including Hoyer, which supply electric motors, gears and other transmission parts.
"We can't be experts on everything, so it's comforting to know that Hoyer knows the factory and our equipment, and that they can react quickly if problems arise. A few months ago, for example, we were having trouble with some couplings. Well, out came our regular contact person from Hoyer, who inspected the parts and quickly found a solution," Tonny recalls.
Facts about Leca Denmark
Leca Denmark is part of the international Saint-Gobain group
The plant in the town of Hinge is responsible for the production of all Leca® lightweight clay aggregate products in Denmark
The first Leca® products were developed in Denmark in 1939.
Leca® products are used as an insulating building material and a lightweight construction filler in buildings, roads, bridge ramps, bicycle paths and harbour installations.