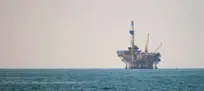 World's largest ship equipped with motors from Hoyer
Hoyer Motors has supplied motors for the hydraulic system on the world's largest ship, which recently arrived in Rotterdam, the Netherlands. The enormous vessel is designed to transport entire offshore platforms and can lift loads of up to an impressive 48,000 tonnes.
382 metres long and 124 metres wide, Pioneering Spirit is the world's largest ship and consists of two massive vessels that have been joined in the middle of the ship's enormous lifting mechanism. The ship is designed to lift and transport entire offshore platforms on the open sea. Hoyer supplied no fewer than 34 motors for the ship, including eight 500 kW motors to be used in the centre hydraulic power unit, which controls the hydraulic system in the ship's main power unit, leak oil pumps and boost pumps.
Hoyer Motors was already in touch with the partners involved in the ship's construction in 2009, when the design was being developed. That's one of the reasons why Hoyer opened an office in the Netherlands that year, to be able to work even closer with local clients," recounts Maarten de Beun, Hoyer Motors' Country Manager, the Netherlands, who continues:
"Since then, our efforts have borne fruit, and back in 2011 we received the order for the 34 motors that would be used for the ship. All of the motors have been tested and classified by the independent Lloyd's Register of Shipping, which ensures that they meet strict international requirements."
Previously, a dangerous operation
Offshore platforms are large and unwieldy, and they must be installed on the open sea. Previously, the top half of the platform had to be manually separated so that the individual pieces could then be installed at sea. This meant that workers had to separate the platform into sections that could be lifted by conventional cranes, which was time-consuming and potentially hazardous work that also entailed a risk of oil and gas spills.
Greater safety at sea
Pioneering Spirit has the capacity to lift and transport entire platforms or their top halves, and the ship is capable of installing them as a single structure. The ship's impressive lifting mechanism has a carrying capacity of up to 48,000 tonnes – corresponding to 80 fully-loaded Airbus A380 passenger planes.
This makes it significantly less dangerous to convey and install platforms at sea, as the lifting mechanism's advanced hydraulics compensate for the rocking seas and keep the platform level throughout the process. The hydraulic system also makes it possible to do lifting operations without prior knowledge of a platform's weight or centre of gravity, and it enables the ship to lift platforms even in poor weather conditions.
Length:
382 metres (1,253 feet) (hull)
Total: 477 metres (1,565 feet)
Draught:
10–25 metres (33–82 feet)
Power:
Eight diesel generators
95,000 kW (total)
Propulsion:
Diesel and electricity; 12 azimuth thrusters