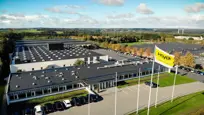 Hoyer Group emerged even stronger from a challenging 2021
Hoyer Group emerged from 2021 with an order book at record levels, but rising prices of raw materials and freight impacted earnings, making the profit lower than expected.
Like many other companies, Hoyer Group was adversely affected by the global economy. Turnover increased, but the profit did not match this.
"The profit for 2021 was strongly affected by the sharp price rises for raw materials and freight. Consequently, it did not live up to the expectations we had when the year started," says Søren Ø. Sørensen, Chairman of the Board of Hoyer Group, continuing:
"Having said that, Hoyer Group's management team implemented strong, tactical and commercial measures during the year to ensure high delivery performance and better earnings. This means that Hoyer has emerged even stronger from 2021 with an order book at record levels. This is why I expect a significantly improved profit in 2022," Søren Ø. Sørensen says.
Stronger market position
Despite a 2021 with challenges, Hoyer Group faces 2022 with optimism.
"The record level achieved in the order book is one result of an intensified effort. We have focused on strategically selected market segments, and with a high delivery performance and a deep understanding of our customers' applications, we have managed to increase the order book," says Henrik Sørensen, CEO of Hoyer Group.
The global shortage of materials and goods has also affected Hoyer Group, and as part of its strategy the company has therefore invested a significant sum in upgrading its stocks.
"Availability was a keyword in 2021. Our ability to deliver is crucial, so at the end of the year we upgraded our stock so that we can provide our customers with the best possible service. It is precisely the availability of goods that is one of the factors behind the growth in our order book," says Henrik Sørensen.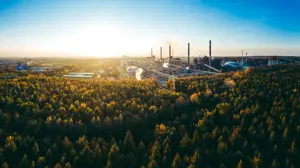 Future growth
2021 was also characterised by several major internal projects that aim to help ensure future growth.
"Throughout the year, we've been working on a comprehensive digital upgrade. We've developed and implemented new ERP and CRM systems. The ERP system is going live right now. This will help to ensure that we have a platform that can facilitate the high ambition for strategic growth that will see us becoming a billion-kroner business," says Henrik Sørensen, continuing:
"Furthermore, in Ningbo, China, we've initiated a major relocation of the company to new, updated facilities. We must acknowledge that these major projects have put pressure on the organisation, but it will soon all be finished and will help us secure future growth," says Henrik Sørensen.
A sustainable future for Hoyer
In combination with the annual report, Hoyer Group has worked systematically on ESG, Environmental, Social and Corporate Governance. The ESG report is enclosed with the annual report. It describes, among other things, how Hoyer Group works on its climate footprint, safety and energy-efficient products. The ever-increasing demand for green, energy-efficient initiatives is part of Hoyer Group's growth strategy.
"At Hoyer Group, we view ESG as a natural element of our strategy. Hoyer Group offers its customers energy-efficient, climate-friendly solutions, making us a strong strategic partner," says Søren Ø. Sørensen.
Turnover: DKK 526.4 million