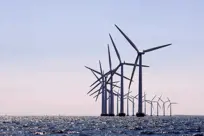 Ready for the wind industry's tough demands
Challenging climate conditions, high quality requirements and global production require tough electric motors and a strong business partner. At Hoyer Motors, Wind is one of the segments selected for focus as the company sees its services and products to be a good match for the industry's extensive requirements.
In wind turbines all over the world, electric motors are used for everything from pitch control to hydraulic brakes and temperature control of gearboxes and generators. Hoyer Motors is experiencing ever increasing demand from customers in the wind industry when designing new wind turbines.
Hoyer is in a unique position to solve the special challenges of the wind industry. Global production, an experienced technical team and an uncompromising approach to quality and documentation help drive growth in the wind segment, explains Hoyer's Segment Manager for Wind, Morten Lorenzen.
"At Hoyer, we have a strong team of experienced specialists who know the industry's requirements and specifications. This applies to the technical perspective, production and the commercial aspect. At the same time, our global set-up matches the reality that wind customers operate in. And we have a high degree of synergy with other of our core segments, such as the marine segment," says Morten Lorenzen.
Tough motors for tough demands
For the wind segment, Hoyer mainly has focus on applications within the categories Hydraulic Power Units (HPU) and Air Handling Units (AHU). In both cases, the applications must meet the demanding environments in which they operate. Here, factors such as salt, vibrations, irregular power supply and large fluctuations in temperature are part of the conditions.
"Our wind motors are carefully adapted to the aggressive environments for both on and offshore wind turbines. An example could be applications where our motors run hydraulic units in which oil viscosity changes, resulting in varying motor loads. Likewise, Hoyer motors are used in Direct-Drive (DD) turbines under extremely high ambient temperatures, which imposes strict demands on the thermal lifetime of the insulation system. It is well-known that the power supply in turbines contains harmonic voltages that impose extreme demands on the electrical life of the insulation system," says Morten Lorenzen.
Delivery performance across the globe
Quality standards are not the only challenge facing the wind industry. As wind turbine production has spread from Europe to the whole world, the demands on suppliers have become greater and more complex.
"Today's wind customers need to orient themselves to both Europe and Asia and apply local sourcing in order to maintain production capacity and consistency. Often they must use several thousand identical devices with very little tolerance for variance. Here we can offer an individually customized product including production capacity to deliver consistent quality across the globe. At the same time, we can quickly and easily secure the necessary documentation," explains Morten Lorenzen.