Nyborg-Mawent keeps the air flowing under all conditions
Nyborg-Mawent specialises in manufacturing radial and axial fans, as well as a wide selection of equipment for industrial, maritime and offshore purposes. Its more than sixty years of experience have made the company experts in designing and building comprehensive solutions for the pumping and transportation of air, gas mixtures and other substances under the most extreme conditions.
Ventilation is a crucial element of an installation or production line in virtually every sector all over the world. This is why you will find solutions from Nyborg-Mawent (Norwegian/Polish HVAC specialist) operating all over the world and often under difficult conditions.
These centrifugal and axial fans work in different surroundings. This applies to everything from aluminium plants in Russia, offshore platforms in Norway, mines in Ecuador, ships navigating from the North Sea to South Africa, Polish power plants, wood-processing plants, food production systems and many other industries besides.
Its more than sixty years of experience have made Nyborg-Mawent experts in the design, construction and production of solutions for conveying air, mixtures and other substances. This is reflected in its customers' expectations of quality, product performance, reliability and social responsibility.
"Our products are expected to perform above average in terms of durability and reliability. By meticulously selecting all the fan components, we guarantee long-lasting, problem-free operation. That's why the experience and insight of our suppliers is also crucial to us. Hoyer Motors has been our partner for the supply of electric motors for many years now. We have jointly carried out a wide range of ambitious projects," explains Małgorzata Cacała, Sales and Marketing Manager, Nyborg-Mawent.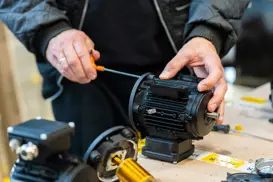 Experts in extreme conditions
Many Nyborg-Mawent fans are made for use in potentially explosive atmospheres (ATEX) and in high-temperature areas. The electric motors an integral components of every single fan and they have to be specified in accordance with the conditions defined for the given installation.
Standard fans are rated to function in ambient temperatures of -20 °C to 40 °C, with mean temperatures from -10 °C to 80 °C By making additional technical modifications, the fans can handle air and gasses whose temperatures go up to 750 °C. In these instances, the motors are equipped with heat-resistant bearings, special seals and other adapted properties and functions. For correct monitoring of the fan operation, the electric motors are often equipped with PT-100 bearing-temperature sensors or PTC thermistor sensors. In special instances, vibration sensors are also mounted on the motor's base frame or housing.
The maritime industry – where fans and motors are often challenged by harsh environments and fluctuating ambient temperatures – is another important market for Nyborg-Mawent. To avoid corrosion problems and to guarantee flawless operation, it is important that the products meet the special maritime requirements.
Customised solutions drive product innovation
Ventilation is rarely a standard assignment. In each installation, the fan and motor must be adapted according to the solution's special needs, such as the requisite air flow, ventilation routes, noise emissions and the energy efficiency of the entire system.
Usually, the knowledge and experience of Nyborg-Mawent's engineers enable the company to match its standard products to meet its customer's needs. When this isn't possible, the company modifies its existing products or develops a brand-new design. This is always done in close collaboration with Hoyer Motors to ensure the right motor specification and to react quickly and correctly to the customers' requirements.
Ongoing investments in design, research and development make it possible for Nyborg-Mawent to create innovative solutions. The development of the product portfolio is often driven by the introduction of new product series based on market insight and demand.
"Both Nyborg-Mawent and Hoyer Motors focus on quality and professionalism in their day-to-day work. Our customer's confidence in us is our biggest motivation for approaching new projects with enthusiasm and commitment. We prioritise maintaining the highest product quality and taking social responsibility, and we're convinced that this will consolidate our strong position on the international ventilation market," Małgorzata Cacała says.
Facts about Nyborg-Mawent
Actively operating since 1956
160 employees
In-house implementation and measurement lab
Uses ISO and other quality management systems
NYBORG GROUP was formed after a merger in 2010. It comprises: Nyborg AS (Norway), Nyborg-MAWENT S.A. (Poland) and NMDO Design Office (Poland)
Cooperating with Hoyer Motors since 2010