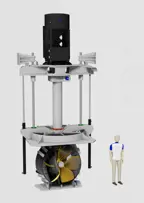 Full sideways thrust
Global Marine Engineering, a Dutch company that manufactures thrusters for vessels all over the world, recently received a 500 kW motor from Hoyer. The motor is used in a powerful thruster that can rotate 360 degrees, thereby making it easier for a ship to manoeuvre precisely even at low speeds.
When large container ships, ferries and other sea vessels navigate in and out of difficult and heavily trafficked ports, they need to be able to manoeuvre precisely and reliably, even at low speeds. This is where bow thrusters are an enormous help. The Netherlands' Global Marine Engineering, for whom Hoyer has been the primary supplier of electric motors since 2011, specialises in the manufacture of these propellers. Hoyer recently delivered a 500 kW motor that is certified in accordance with the Russian RMRS standard and must be used on a submersible azimuth bow thruster.
360-degree thruster
According to Robin Franken, CEO, Global Marine Engineering, having the right certifications is one of the factors that makes Hoyer an ideal partner.
"The motor is installed in our new submersible azimuth thruster, which is a GRA1350. An azimuth thruster can rotate 360 degrees, which vastly improves the vessel's ability to manoeuvre. The thruster is powerful enough to also be used for primary forward motion, and it is used to manoeuvre the ship at low speeds. In this case, the client has specified that the thruster be certified in accordance with RMRS, so it is a big advantage for us that Hoyer can supply motors that already have the necessary certifications."
Reliability is essential
Most of the motors that Hoyer delivers to Global Marine Engineering are standardised and already type-approved in accordance with the requirements set by major maritime classification companies such as ABS, LRS and DNV-GL. As a result, Hoyer can often maintain fast delivery. Robin Franken also emphasises the reliability and high quality of the motors as the main reasons for selecting Hoyer as a supplier:
"Our motto is 'first time is right' so it is important for us that our clients can rely on the quality of our products. We deliver thrusters to ships all over the world such as ships built at Austal, Australia and Damen, which has shipyards in many different countries. These days, almost all ships are fitted with bow propellers. Many older models get fitted with them once they're dry-docked as well. As you can see, this is a growing business area."
Facts – what are bow thrusters?
In the stern of most modern ships, there is often a hidden electrically powered propeller known as a bow thruster, which is located just below the waterline. When the propeller is activated, the ship can move sideways, independently of the ship's main engine. A bow thruster can be enormously helpful for the ship's crew when docking or executing other precise manoeuvres. The technology is not only used on ships, but also on many other types of marine vessels such as floating cranes and salvage vessels.
Many bow thrusters can also be used for so-called dynamic positioning, in which an advanced system of sensors and computer software continuously adjusts the ship's position to counterbalance the effects of wind and ocean currents. One of the ways in which dynamic positioning can be used is to maintain a fixed position in places where it is not possible to anchor.
Facts about Global Marine Engineering
Founded in 1981
Headquartered in Heijningen, the Netherlands
Delivers thrusters and propulsion systems for ships all over the world
Supplies thrusters with a diameters from 370 mm to 2400 mm