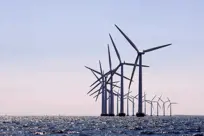 Monster crane hoists wind turbines along the Chinese coast
After an 18-month construction period, a massive jack-up offshore wind power installation platform has been successfully launched off the coast of China. Here, its 800-tonne rotary crane will be used to install turbines in the rapidly expanding offshore wind farms.
Towering more than 80 metres over the ocean surface, the KOE-01 marine installation platform is an impressive sight as it works to install huge multi-megawatt offshore wind turbines off the coast of China.
The KOE-01 is one of several new installation and service vessels commissioned by Chinese shipyards in response to the rapidly growing demand for Chinese offshore wind turbines. Capable of withstanding strong winds and operating at sea for up to 30 days without being resupplied, the KOE-01 is well suited for the task.
800-tonne crane
The platform is equipped with a JYM-HJ3600 hydraulic plug-type lifting system. The crane's 800-tonne lifting capacity is designed and manufactured by South Marine Machinery from CSSC Group, who turned to Hoyer for motors to power the massive crane.
"We are very satisfied with Hoyer's prompt reaction and performance during the order production and for the advice we received to ensure that the optimal motor solution was selected. We regard Hoyer as a trusted long-term partner, who has demonstrated the ability to exceed expectations when handling major projects, says a representative of the owner of the vessel, Keen Offshore Engineering Co. Ltd.
Rugged brake motors
Based on the advice from Hoyer, South Marine Machinery selected four 315 kW standard marine motors for the crane's HPU (Hydraulic Pressure Unit), four brake motors and an inverter motor with encoder.
The brake motors have an IP56 protection rating for open deck operation. This ensures that they can withstand the harsh working conditions at sea, with frequent exposure to both seawater and strong winds," says Xiao Weixang, Area Sales Manager, Hoyer China.
Hoyer also supplied the relevant documentation during the design stage, and carried out quality control throughout the project.
Facts about the KOE-01
Jack-up offshore wind installation platform
Commissioned in September 2015. Commenced operation in March 2017
Able to operate at water depth of up to 45 meters
Total deck area: 2000 m2
Variable load: 2500 tonnes
Crane working range: 20–107 metres