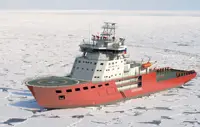 Minus 60 degrees C with no motor problems
When electric motors are used in ice-breakers in Arctic waters, they have to work reliably in temperatures of minus 60 degrees Celsius. To be up to the job, Hoyer's marine motor was modified with specially made parts and then thoroughly tested in icy surroundings.
You need special equipment when icebreakers such as the Aker Arc 130 Icebreaking Support Vessel have to pave their way through two-metre-thick polar ice north of Siberia. Global warming has made sailing routes around Russia more negotiable, but ships are still subjected to extreme temperatures in the icy Arctic waters. That's why a special solution was needed when Spanish Fluid Mechanica ordered marine motors for the anchor windlass on the rugged icebreakers.
Special components
Hoyer had to supply a total of 8 motors between 15 kW and 37 kW. The Russian Vyborg Shipyard required the motors to operate in air temperatures of down to minus 60 degrees Celsius. That's why were several vital components were changed to enable the motors to withstand the extreme temperatures.
We adapted our marine motors with special bearings, packaging and oil gaskets made of Teflon. They were also fitted with metal cooling wings. The cooling wings are usually made of plastic, but in minus 30 degree temperatures, the material might snap," says Adam Slupinski, Country Manager for Hoyer.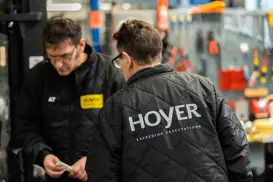 24 hours in a climate chamber   
Before the motors could be delivered, they had to take a chill test to prove they could handle the cold. The documentation for the test was one of the conditions for the motors to be classified as per requirements from the Russian Maritime Register of Shipping (RMRS). Hoyer worked with the DELTA testing institute to conduct the tests.
"A common problem in cold surroundings is that accumulated moisture in bearings or frozen oil can lock movable parts. This is typically the case when the motor needs to re-start after having been switched off in extreme temperatures. That's why we put a motor in a climate chamber, where we left it switched off for 24 hours in minus 60 degrees, and then went back to switch it on again. It worked faultlessly," says Erik Jensen, Account Manager , DELTA.
Quick delivery
After the approved test and classification, the motors were delivered to Fluid Mechanica, and from then on to Vyborg Shipyard as part of the anchor windlass. Despite the need for special modifications and the special chill test, the order was delivered in record time.
Because we are able to rebuild and modify our own motors, we were quickly able to prepare the motors for testing so that we could deliver them with the passed chill test and RMRS certification less than six weeks after the order was place," Slupinski says, adding:
"Next time we get a similar project, we will be able to deliver even faster as we have the experience, testing documentation and internal procedures in place.
Facts about om anchor winch
Electrically operated Fluidmecanica M-250 winch
Maximum anchor pull: 252 kn
Facts about Aker Arc 130 Icebreaking support vessel
Icebreaker designed for sailing in Arctic waters
Length: 122 metres
Width: 25 metres
Draught: 8 metres
Icebreaker capacity: 2 knots in 2 metres + 30 centimetres snow