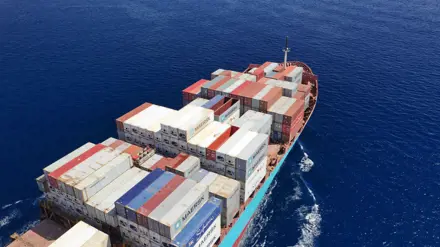 Hoyer motors aboard the world's first methanol-powered container ship
Mærsk's newly built container ship, Solstice, is the first in a series of vessels that can run on both methanol and conventional fuel. IE4 motors from Hoyer are helping reduce energy consumption in the engine room. 
Right now, the world's first methanol-powered container ship is on its maiden voyage from the Hyundai Mipo shipyard in South Korea to Mærsk's headquarters in Copenhagen. The newly built feeder liner has a capacity of 2,100 TEUs (twenty-foot equivalent units) and is an important milestone on Mærsk's path towards the goal of CO2 neutrality in 2040.
Mærsk has chosen to invest heavily in methanol as a fuel in its efforts to reduce greenhouse gas emissions. The new container ship is the first of a total of 25 ships ordered that are fitted with dual-fuel engines, which can be powered by both methanol and conventional sulphurous fuel. Mærsk has also entered into agreements for the purchase of sustainable bio-methanol and e-methanol for the new fleet.
Energy-efficient electric motors in the engine room
It is not only on the fuel front Mærsk has chosen to go the extra mile to reduce the environmental impact. In the engine room on the new container ship, energy-efficient Hoyer IE4 electric motors have been used to power the various pumps. This results in significantly lower energy consumption than the IE1 or IE2 motors normally used for marine applications.
"We can clearly see that energy efficiency is being given higher priority in the marine sector. Previously, they would typically use less efficient motors for the pumps, but Mærsk and many other actors are focusing on the green transition. And in this context it's important to use all means available to achieve the climate goals," says Karsten Hjorth Rygaard, Global Key Account Manager – Shipowner at Hoyer Motors.
IE4 motors from Hoyer are defined by high energy efficiency. This creates major opportunities for energy savings across markets and applications.