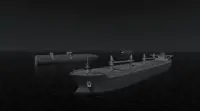 Great demand for reliable Japanese deck cranes
Whenever Japanese and international shipbuilders need reliable cargo management solutions, they frequently choose Iknow Machinery. Iknow is renowned for its high-quality deck machinery and it currently has a project order for the delivery of 32 deck cranes and 8 new bulk carriers.
Cargo handling is a critical process for operating a bulk carrier. The many tonnes of grain, ore, salt and other types of bulk goods need to be handled carefully and precisely as faults can jeopardise the safety of both crew and ship. At the same time, the cargo must be managed as quickly and efficiently as possible to reduce the time spent in the port.
In other words, cargo handling requires sound, reliable machinery which makes high-quality deck cranes a high priority for many shipping companies. Although not all bulk carriers have their own machinery for handling cargo, deck cranes greatly improve a ship's flexibility as it makes the ship independent of land-based cranes.
A recognised manufacturer of high-quality deck machinery is Iknow Machinery, a Japanese company that delivers equipment to some of the most demanding shipyards and shipping companies both in Japan and abroad.
32 electric hydraulic deck cranes
In the period from April 2020 to June 2021, Iknow received deck crane orders for 8 bulk carriers. Each ship is equipped with four electric-hydraulic deck cranes that can lift 30 tonnes of cargo.
The deck cranes will be sent to the Oshima shipyards. This is where the first four cranes will be mounted on MV Kaifong, a bulk carrier of 36,300 dwt, that must be delivered to the shipping company in August 2020.
Each deck crane is powered with electricity from a 170 kW electric motor. Rather than choosing a Japanese manufacturer,
Iknow ordered 32 motors from Hoyer Motors Asia. The motors are delivered through Iknow's sourcing unit in Shanghai, Xiong Long Industrial.
"Due to their internal standards and procedures, Iknow makes strict demands on quality and reliability of supply. Prior to this project, our sales teams in both China and Japan were engaged in close dialogue with Iknow and visited their production facility, among other things. This was done to align and identify their detailed needs and requirements," says Mike Xiao, Area Sales Manager, Hoyer Motors Asia.
Agile Asian supply chain
Iknow's production processes take place in the city of Sasebo near Nagasaki, situated near China and South Korea. This ensures a highly efficient process, both for the conveyance of the finished products to the customers and for the receiving of components such as Hoyer Motors.
"A key factor for Iknow Machinery in this project was our possibility of providing punctual deliveries to Japan supported by an agile, robust supply chain, as well as our logistics setup in China. Our most recent capacity increase at our Asian headquarters in Ningbo, China, enables us to support customers like Iknow throughout the region. This applies to the delivery of comprehensive motor and classification documentation, etc.," says Masahide Uchino, Country Manager, Japan, Hoyer Motors.
Facts about Iknow Machinery Co., Ltd. 
Iknow Machinery specialises in equipment for handling ship cargoes, which includes deck cranes, cargo hatches, chipped wood unloaders and gantry cranes.
Iknow Machinery has its headquarters and production facilities in Sasebo, in the Nagasaki prefecture near Kujyuukushima Saikai national park.
600 employees, including external suppliers
Iknow's shareholders include several renowned Japanese brands within the marine industry and represent both shipping companies and shipyards, including Imabari Shipbuilding Co., Ltd. and Oshima Shipbuilding Co., Ltd.