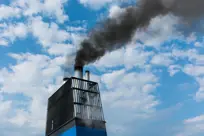 OEM suppliers look forward to a rebounding scrubber market
After a decline caused by the pandemic and low oil prices, the global marine scrubber market is starting to take off again. This is seen throughout the supply chain, where companies like Flebu, a Norwegian fan specialist, is expecting demand for marine scrubbers to rise in the years ahead.
Declining oil prices and COVID-19 brought five years of continued growth on the scrubber market to an abrupt halt. Now, global demand for marine scrubbers is rising again, and the market is expected to be worth USD 6,950 billion by 2025.
Due to the rising prices for fuel oil with low sulphur content, shipping companies are returning to scrubbers to comply with IMO's sulphur emission regulations. This increases the flow of incoming orders for scrubber manufactures and their suppliers. One of these is Flebu, which manufactures centrifugal fans and other high-quality steel products for the maritime industry.
"During the initial build-up and acceleration of the scrubber market for the maritime industry from 2014 to 2019, it was challenging to supply enough fans to meet the demand. We saw a complete halt during the pandemic, but we expect the scrubber market to rise even higher than the level of activity of the preceding years," says Trond Bøe, Group CEO, Flebu.
Trond Bøe singles out the consequences of increasingly rigorous statutory demands, such as the Carbon Intensity Indicator (CII) that assesses ships from A (best) to E (worst) according to how efficiently a ship conveys freight or passengers. Roughly 70–80% of all active bulk goods ships, container ships, tankers and LNG carriers need to be improved before 2030 to maintain a CII classification of A, B or C.
Alternative fuels are decades away
The demand for scrubbers also depends on the accessibility of alternative fuels such as ethanol, LNG, ammonia and hydrogen.
"People in the sector often refer to the option of future low-emission fuels. Once successful alternatives have matured, the need for an adequate infrastructure will arise. At present, electricity is not an option for large vessels. Hydrogen gets little traction due to the temperature requirements, and the first ammonia-powered vessels are expected in 2026. In brief, many ships will be sailing on oil for years to come, and most of them will need scrubbers to meet the emission standards," Trond Bøe says.
More complex scrubber systems
The stricter requirements also affect the design of the maritime scrubbers. As the scrubber technology gradually develops into comprising more applications, including ship's boiler, the systems will become more complex and sensitive to pressure differences.
"The scrubber is changing from requiring enormous high-pressure fans to more varied machinery. On many ships, the boiler is connected to the scrubber system, so we need to use smaller fans to precisely control the pressure. That's why we design almost all our fans according to the customer's specifications. Our choice of specific materials and the pump wheel design are based on the composition of the gas and the dimensions of the scrubber system," Trond Bøe says.
Flebu has been using Hoyer Motors as its primary motor supplier since 2018.
"We chose Hoyer Motors due to their vast product knowledge, their reliable quality, short lead time and competitive pricing. In most instances, we use standard maritime motors, but Hoyer provides good support for special solutions and, needless to say, all the correct types of approval required for maritime use," Trond Bøe says.
Facts about Flebu
Since 1955, Flebu has supplied almost 26,000 high-quality centrifugal fans, noise suppressors and dampeners to global energy, maritime and offshore industries.
The Flebu Group comprises the parent company Flebu International in Sandvika, Norway, and has subsidiaries in Växjö, Sweden (Flebu Svenska), Tampere, Finland (Flebu Finland), and Tallinn, Estonia (Flebu Eesti).
Flebu has just launched a new 'light' product range. A series of low-pressure fans that are useful for air solutions with purging and sealing.