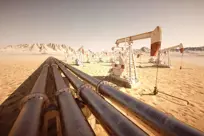 Cooling under control in the Algerian heat
The heat exchangers and pressure vessel solutions manufacturer ASTRA Refrigeranti needed rugged, reliable axial fan motors for mobile air coolers used in oil extraction tasks in Algeria. The answer was a fully customised solution from Hoyer – delivered in just four weeks.
Extracting crude oil from the Algerian underground is a hot, dirty job. So, when the Italian heat exchangers and HVAC specialist ASTRA Refrigeranti received an order for mobile air coolers for the oil industry in Algeria, they knew that they needed parts that could withstand the demanding conditions, such as coarse desert sand, high humidity and vastly fluctuating temperatures. And due to the presence of flammable gasses from the oil extraction, all equipment obviously had to be ATEX-certified.
Fully customised solution
ASTRA turned to Hoyer to supply the motors for a total of 15 axial fans in the cooling towers. Even though it was a challenging request from a new customer, Hoyer's HVAC team was ready to take on the challenge from the Italian client.
"We had to deliver a fully customised solution on a tight deadline. Fortunately, we have extensive experience from similar projects, both with axial fans for cooling towers and ATEX requirements," says Adam Slupinski, HVAC Segment Manager, Hoyer Motors.
Keeping out dust and moisture
The presence of dust and humidity was particularly challenging. The fluctuating temperatures meant that there was a significant risk of condensation forming inside the motors. To prevent this, Hoyer added heating elements to the motors and tropicalised the coils, which is a surface treatment process that protect the coils against corrosion and potential short-circuiting. Furthermore, the V1 mounting position of the motors also called for additional care.
"Because the motors are mounted vertically on the axial fan, they need a special additional seal to prevent dust and moisture from being pulled by the motor fan through the rotor and into the motor casing. We added special seal rings to ensure that the motors were fully protected, even in very dusty or humid conditions," Adam Slupinski says.
Reliability and speedy work
While designing the solution, Hoyer worked closely with the project team from ASTRA, making sure to keep the process moving as swiftly as possible. Once the design was in place, Hoyer also provided complete documentation in French, including motor nameplates, data sheets and instruction manuals.
"Working with Hoyer Motors, we experienced high reliability and an excellent delivery time. Their team was very adept at suggesting specific solutions and made it possible to complete the project in just four weeks, from order to delivery in Italy," says Andrea Meloni, Sales Engineer, Astra Refrigeranti.
The customised solution
Hoyer delivered a total of fifteen 18.5 kW axial fan motors for five mobile air coolers
The motors were certified to ATEX, Zone II 3G Ex nA IIC T3
The customised solution included the following features:
- specially designed for ambient temperatures of 55 °C
- heating tape and coil tropicalisation due to high humidity
- IP66 aux terminal box
- special seal rings to protect the motor from dust, moisture and high temperatures
- bearings for use under high temperatures
- French documentation package (motor name plates, data sheets, maintenance manual and certificates)
Facts about ASTRA Refrigeranti
Established in 1948
Manufacturer of air coolers, gas coolers, heat exchangers, distillation columns, reactors and steam condensers
Experts in customised solutions
Part of the global Baglioni Group since 2016
Specialised in solutions for the petrochemical industry