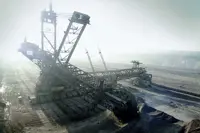 Maximum braking power at an altitude of four kilometres
From the mountains of Chile and Peru to the windy North Sea, Svendborg Brakes keeps enormous industrial machinery and wind turbines under control. The size of the applications is continuously growing and the conditions becoming more extreme, which means that the need for excellent quality and superlative braking power is growing, too.
Considerable force is required to crush the copper ore excavated by Chilean miners from the Andes mountains. One machine that meets this challenge is the gearless SAG (Semi-Autogenous Grinding) mill. Ore is crushed in a vast 12-metre diameter drum powered by a 32,000 horsepower motor. The specially manufactured brake system – whose clamping force of more than 24 million Nm can bring the very heavy mining equipment to a complete halt – is made by Svendborg Brakes.
Every year, Svendborg Brakes delivers braking systems to wind turbines, mining facilities and drilling rigs across the world. The company operates a global after-sales support system that is ready round the clock to provide the service and spare parts that can prevent costly downtime.
Total control, under any conditions
Svendborg Brakes' products have been fitted in a variety of applications, mainly in heavy industry sectors such as the wind power, petrochemical, mining and maritime industries. The common denominator for all these applications is safety, durability and reliability, even under the worst imaginable conditions.
"Our brakes simply must work when all else fails. In some cases this means being able to deliver a clamping force of up to 36 million Newton-metres in some of the most extreme environments on earth. Some installations in the mining industry work at altitudes of between four and five kilometres, where the thin air requires the motor for the hydraulics to be specially modified to prevent it losing power. In other cases, brakes must be able to withstand temperatures of plus or minus 50 degrees Celsius", explains Robin Schmidt, Regional Sales Manager, Svendborg Brakes.
Hydraulics and elastic force
The product portfolio ranges from spring-energised emergency brakes with few movable parts to 2-Stage Soft Braking Option (SOBO) systems, where lightning-fast hydraulic power units and advanced electronics provide full control of the braking process.
"In spring-energised brakes, a series of powerful springs clamp the brake; while hydraulic pressure releases it. This type is used in emergency brakes and to secure brakes during service. In contrast, with active brakes such as the rotor brakes on wind turbines it is hydraulic power that clamps the brake. The electric motor which controls the pressure in the hydraulics and loads the accumulator runs for only short intervals of around 30 seconds. But quick application and precise control are paramount," Schmidt says.
Constantly increasing demands
Product development at Svendborg Brakes is characterised by new challenges. Customers' applications are growing in size and complexity and have to installed in ever harsher environments. Hoyer Motors, which has been supplying motors to Svendborg Brakes for more than twenty years, has a say in the process at an early stage of product development.
"Hoyer knows our products and the end result we are working towards. This is why we involve Hoyer during the development of early prototypes. Through close contact and in-depth knowledge of the product, we can make quick changes along the way, which make it easier for the prototype to be approved. Moreover Hoyer provides high quality and excellent service and can keep pace with our global presence," Schmidt says.