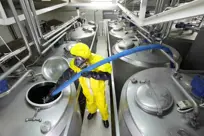 Explosion-proof pumps set new standards for safety
The Dutch pump manufacturer BBA Pumps has developed the world's first fully ATEX-certified mobile pump. Hoyer motors drive the pumps that can be safely used in explosive atmospheres.
Even the slightest spark can trigger a disaster when flammable chemicals are moved from one tank to another. For this reason, pumps and other equipment that can operate safely in hazardous explosive environments are in great demand in the chemical industry and similar fields where explosions are a risk.
In Europe, equipment of this sort is subject to the EU's ATEX directives, which regulate work in explosive atmospheres. But it is no easy matter to produce equipment that can comply with the strict safety demands suitable for zone 1 (category 2). The Dutch pump manufacturer BBA Pumps, which recently developed an explosion-proof mobile pump, know this all too well.
"One of our clients requested a vacuum-assisted mobile pump that they could lease to their customers in the chemical industry. The pump must be fully certified to ATEX. But the challenge was that such a product simply did not exist on the market. There were pumps where the motor was certified alone, but none where the entire unit was certified for mobile applications. So, we started to develop a fully certified pump from scratch," says Henno Schothorst, Product & Marketing Manager, BBA Pumps.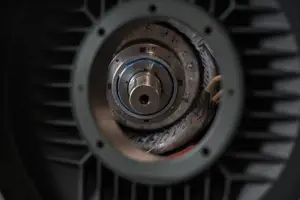 No risk of sparks
To comply with the ATEX regulation, all the components for the explosion-proof pump unit needed to be designed so there was no risk of sparks, such as from static electricity, when the pump operates in explosive atmospheres.
"Every single detail on the pump was updated and double-checked. Everything from the electric motors, which are ATEX-certified separately, to the frame and wiring of the control box. Among these things, we also offer the unit in both cast iron wet-end or with the option for 316 stainless steel wet-end to meet the harsh conditions in the chemical industry. Furthermore, in case of system errors, automatic sensors stop the motors immediately. Even the user manual was completely renewed and a full-scale project on its own," says Henno Schothorst.
Two motors in every pump
Each of the mobile pumps contain two electric motors – a 22 kW motor that drives the pump itself, and a 2.2 kW motor that runs the vacuum system, which primes the pump by filling the pumping system with liquid before the main motor is turned on. Electric motors are the obvious choice for explosive environments instead of combustion engines, according to Hoyer's Country Manager for the Netherlands, Maarten De Beun.
"Many of these types of pumps are driven by diesel engines, but they are not suited for explosive atmospheres, especially not for the highest ATEX class, where the risk of explosion is high. The motors we deliver to BBA Pumps are fully ATEX-certified. Furthermore they have a C4 surface treatment in compliance with ISO 12944, which makes them highly resistant to the harsh environments in which these pumps will typically be used," Maarten De Beun says.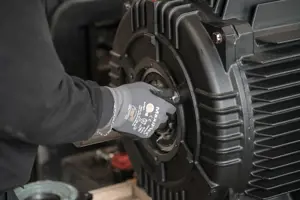 Facts about the ATEX-certified pumps
Vacuum-assisted mobile pump for use in explosive environments.
Certified for use in ATEX zones 1 and 2 (gas atmosphere)
Maximum capacity of 430 m3/hour
Facts about BBA Pumps
Has been producing mobile pumps for more than 60 years
BBA Pump's headquarters are located in Doetinchem, the Netherlands, with additional divisions in the Czech Republic, Poland and the USA.
More than 200 employees worldwide.