Integrated VFD motors
Integrated VFD motor solutions are cost-effective, space-saving and easy to install. They have a compact and flexible design and are often used for small-scale OEM applications such as pumps, fans and hydraulics, as well as non-essential marine applications.
Range
from 0.37 kW to 30 kW
KOSTAL range
INVEOR M and MP
Energy efficient motor and drive solution
Hoyer Motor Range
IE2, IE3, IE4
Range
fra 0,37 kW til 30 kW
Kostal range
INVEOR M and MP
Energieffektiv motor- og drevløsning
Hoyer Motor Range
IE2, IE3, IE4
Product information
We offer integrated VFD motor solutions with drives from KOSTAL. These are a user friendly plug and play product for all types of applications. The integrated drives are a simple and efficient way to achieve energy savings and control your applications.
We offer integrated solutions from 0.37-30 kW. The integrated VFD motor can be easily configured according to market and application requirements. The units are assembled on demand and the customised possibilities are many. With Hoyer Drives & controls as the sole point of contact, it is easy to get started with integrated VFD solutions, and short delivery times are an important part of our service. :

Highlighted functions
Wide range of communication functions.
KOSTAL app for mobile application control.
Integrated display and keyboard.
Built-in PLC functions.
Safety approved emergency stop inputs
Brake option and resistors for rapid ramp down.
as pre-programmed plug and play units to meet your supply chain requirements.
Hoyer Motors and KOSTAL drives are fully assembled and ready for installation. Motor assembly, complete documentation and function tests are carried out by Hoyer Drives & controls. The integrated drive solutions are not only suitable for OEM applications and production. In many optimisation projects, the energy efficiency of existing applications can be significantly improved by replacing the existing motor with an integrated VFD motor.

Produkt-id
Rammestørrelse
Poler
Ydeevne
Montering
Spænding
Vist navn
Why use an integrated VFD motor?
There are many advantages to using an integrated VFD motor. You can find some of them here.
Energy savings up to 50%.
Easy and precise speed and torque control
Easy installation with a compact design
Saves space in technical rooms
Cost-effective solution
Obvious component for finished OEM product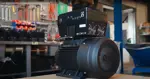 Hoyer Motors mounting of Integrated Variable Frequency Drive
1:44
Contact us
Do you have any questions, or do you want to know more about our solutions within integrated VFD motors? Contact us via below contact form.