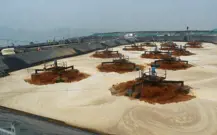 Rising demand for clean and clear wastewater
Both the Middle East and the Far East see a rising demand for better waste-water management. In Hong Kong, Hoyer's electric motors supply large surface aerators, which help bacteria treat municipal and industrial waste water.
Scenarios of unfiltered urban wastewater flowing directly into polluted rivers, sewers and canals in cities like Mumbai, Riyadh and Hong Kong are a thing of the past. Governments and corporations alike in an increasing number of countries are pushing for better waste-water management.
From the Netherlands to Hong Kong
One of the companies to benefit from the increased interest in clean water is Hubert B.V. From its factory in the Dutch city of Stavoren, Hubert exports water purification and treatment systems around the world. Recently, Hubert installed a series of surface aerators in Hong Kong to help treat the city's waste water.
The waste water is cleaned by a special bacterium that eats the pollutants, but requires oxygen to live. This is provided by the aerators that use a paddle wheel (width: 1700 mm) supplied by an energy-efficient 22 kW motor from Hoyer mounted on a gear. The surface of the water is stirred and mixed with oxygen at the same time.
"We specialise in this type of surface aerators with a vertical shaft. The diameter of the paddle wheels is 1.7 to 3.5 metres and they weigh up to three tonnes. The aerators rotate slowly at around 50 to 60 rpm. To achieve this, you have to generate a lot of power which in many instances requires motors of up to 300–400 kW. But you also need to keep the speed down with a reliable gearbox that is up to the task," says Piet Demmer, Sales Manager for wastewater treatment, Hubert B.V.
Export of equipment and know-how
While the Netherlands has been treating water for centuries and is renowned for its successful water management industry, other countries have only recently made waste-water management a priority. This intensified effort to ensure clean and clear rivers and lagoons is driving the demand for both expertise and high-quality water treatment equipment.
"In the Netherlands, 99% of all households are connected to a waste-water treatment plant and there is an overcapacity of water management facilities to cope with flooding and extreme weather. But new markets are opening up, especially in the Middle East and the Far East. In these areas, we are now seeing governments willing to invest heavily in waste-water management. Hubert has recently made new contacts in Saudi Arabia and China," Piet Demmer says.
Highly competitive market
While both the know-how and technical solutions of water management companies like Hubert are currently in high demand, the competition is still intense. This makes it crucial to pick the right suppliers, especially when delivering to new markets.
"There is an increasing focus on costs, not just for waste-water projects, but for technical solutions in general. This means that companies need to be able to deliver high-quality products without delays, and minimise costs at the same time. Highly reliable delivery, good customer support and an extensive stock of motors were some of the key elements we contributed to the collaboration with Hubert on the Hong Kong project," says Erik Dees, Key Account Manager, Hoyer Motors.
 About the Hong Kong facility
The surface aerators delivered by Hubert B.V. are part of a water treatment facility that processes municipal and industrial waste water from the city of Hong Kong.
Up to now, Hoyer has delivered sixteen 22 kW V1 electric motors with hoods. An additional order of 12 motors is in the pipeline.
The motors are designed for operation in outdoor environments.
About Hubert B.V.
Founded in the Netherlands in 1880
Supplies a wide range of products, from small screw pumps to water treatment equipment and complete water supply systems.
Hubert's factory at Stavoren, 7,000 m2 includes a port quay for seagoing vessels, a railway connection and crane capacity of 92.5 tonnes. This enables Hubert to send up to 250 tonnes of machinery without problems.