Soft starters
Together with Schneider Electric, Hoyer Drives & Controls offers a wide range of soft starters. We offer customised solutions where starting and stopping of the electric motor is adapted to the application and market requirements.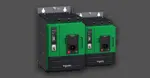 Suitable for all standard Hoyer motors
Display for easy programming
Partnership with Schneider Electric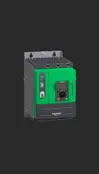 General information
When designing applications driven by electric motors, consider what happens when you start and stop the motor. Incorrect component assembly can result in reduced product life or even complete system failure. In addition to start-up methods such as direct on line (DOL), Star/Delta starters and the use of variable frequency drives, the soft starter is an obvious choice for starting many applications.
A soft starter works by gradually increasing the voltage to the motor for a smoother and softer start. Stopping gradually reduces the voltage and ensures a more controlled stop.
Key benefits
The main advantages of using a soft starter are better control of the application, limiting mechanical wear and stress, as well as limiting peaks in current.
With a single point of contact, Hoyer Drives & Control offers combined soft starter and electric motor solutions based on the Hoyer motor range and the ATS 22 and ATS 48 series from Schneider Electric.
Selecting a soft starter depends on the following criteria:
Application type and load
Rated output and motor current
Supply voltage conditions and locations
Start and stop frequency in a given period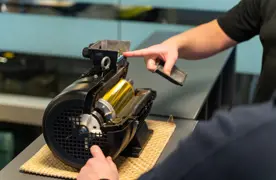 Product information
Hoyer can also offer line and bypass contactors to suit the soft starter application, as well as complete starter panels tailored to the task.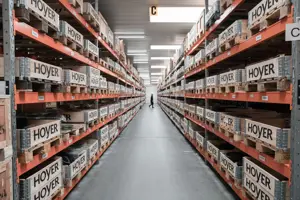 ATS 22
Primarily for industrial applications
Motor output from 4-400 kW
Voltage supply from 3 x 208 to 600 V 50/60 Hz
Built-in bypass contactor in the starter as standard
Integrated display for easy programming
Integrated thermal motor protection
ATS 480
For marine and industrial applications
Motor output from 4-900 kW
Voltage supply from 3 x 208 to 690 V 50/60 Hz
Wide range of marine approvals
Integrated display for easy programming
Integrated thermal motor protection
Pumps
In pump applications, such as centrifugal pumps, a soft starter is often used to reduce motor torque during the start-up sequence. The soft start and soft stop option prevents pressure surges that can cause wear and stress on pipe systems.
Soft starters are used for a wide range of marine pump applications, including ballast water pumps, cargo pumps and scrubber pumps. They are often used for cargo pumps that require soft start and stop, but otherwise run at full speed.
Ventilation
Soft starters are often used to reduce the starting torque on centrifugal fans. Among other things, this can prevent V-belts from slipping and at the same time limit voltage drops on the grid, which can otherwise be caused by the high motor start currents that can occur at DOL start-up. A significant number of large fans are driven by powerful motors fitted with flywheels, which require a high starting torque. On these applications, a soft starter can support a smooth start and stop by reducing the starting voltage and extending the start time.
Compressors
A soft starter provides better starting performance for compressors, especially screw compressors, where the load torque increases with speed. It reduces the initial load of the application and can thus extend the mechanical life of the product.
Marine applications
Using a soft starter has the benefit of reducing the risk of current surges during motor start-up. This prevents the generator from being overloaded and reduces potential operating errors caused by voltage drops.
Contact us
Do you have any questions, or do you want to know more about our solutions within soft starters? Contact us via below contact form.