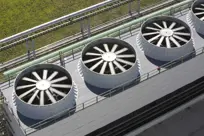 Industrial cooling requires special motors
Dust, moisture and widely fluctuating temperatures are commonplace in industrial cooling towers. Harsh environments place strict demands on the motor solution – at both application and project level.
From oil production in the desert to power plants in Arctic regions, blocks of cooling towers are a familiar sight in the industrial sector. The ventilation units are an essential component of cooling towers, and operating in the tough environment that arises when surplus heat is cooled can be a demanding task. The same applies for the motors that power the ventilation.
Condensation and moisture are the most common risk factors in large cooling towers, but they are rarely the only effects that have to be withstood. Adam Slupinski, HVAC Segment ,Manager Hoyer Motors, explains:
"Cooling towers are usually used in processes where there is a need to handle surplus heat. They are installed in vastly differing environments and in temperatures ranging from minus 50 degrees Celsius to plus 80. Water, dust and salt are often some of the tough challenges that the motors that power the fans must be able to withstand," he says.
Focus on correct IP classification
When motors are being prepared to operate in cooling towers, the top priority is to make sure that they remain dry "on the inside". The cooling process takes place with the aid of water and evaporation, and the surplus water from this must be diverted effectively so that it cannot penetrate. Hoyer Motors uses several different methods, according to the kind of ventilation and the cooling tower. These include, for example, the insulation system, surface treatments and customised solutions with special gaskets and drains.
"It's essential to make sure that the motor has the correct IP classification, typically IP55 and all the way up to IP66, so that it's protected against penetration from both dust and liquids. Additional protection can be achieved by adding heat bands that counteract condensation in the motors, the use of specially developed sealing rings and gaskets, and anti-corrosion protection of the windings," says Adam Slupinski.
New installation provides more stability
Depending on the type of cooling towers, installing the motors can also represent a challenge. In many cases axial fans are used, in which the motor is installed vertically, but regardless of the mode of installation it is crucial that it is stable and protected against vibrations.
In order to offer customers more opportunities to identify an ideal mode of installation, Hoyer Motors has just introduced a new product solution known as Pad-mounted motors.
"Pad-mounted motors use a bracket mount instead of the traditional foot or flange. This provides better stabilisation of both motor and fan, and the installation process is basically quicker and easier in our OEM customers' production facilities," Adam Slupinski says.
Focus on delivery time
Despite the large number of special modifications, the starting point for motors for cooling tower applications is typically a modified standard motor. This means increased flexibility and short delivery times for project-specific solutions.
"We sell thousands of these motors every year, and, in collaboration with our HVAC specialists, our technical department has extensive experience of performing the relevant modifications. But you have to maintain close dialogue with each individual OEM customer, as their situations often vary greatly. Some need live forecasts to be prepared for batch production, while others need short delivery times for special projects. Whatever the situation, we can usually offer a customised solution within a few weeks," Adam Slupinski says.