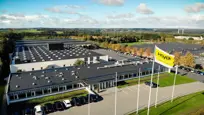 Hoyer Group divests its transmission division
Hoyer Group has divested its Hoyer Transmissions division to Axel Johnson International, a Swedish industrial group that also owns Jens S Group. Hoyer Group wanted to use the divestment to intensify its focus on developing its primary business unit, Hoyer Motors, which makes electric motors.
Hoyer Transmissions is a renowned supplier of transmissions in Denmark, Sweden and Norway where its products are sold under its own brand, like other European quality brands. Since its founding in 1974, Hoyer Group's history has been characterised by its transmissions, but in recent years, the company's two business units were developing in different directions, which is why it only seemed natural to make a strategic divestment.
"Hoyer Transmissions still has great potential, and we think that we've found the best owner to achieve this. Axel Johnson International is thoroughly familiar with the transmission market, while showing deep respect at the same time for the core values and areas of expertise that characterise Hoyer Transmissions," says Henrik Sørensen, CEO, Hoyer Group.
The divestment is expected to be completed by the end of March 2020. Hoyer Transmissions will continue to be located in Hadsten, but the current employees will become part of the Jens S Group under the name of their Danish subsidiary, Jens S Transmissioner A/S.