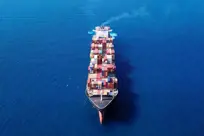 Hoyer strengthens its partnership with MAN Diesel & Turbo
Hoyer Motors and the leading manufacturer of marine motors, MAN Diesel & Turbo, are expanding their existing partnership. As a result, Hoyer's electric motors will be included in even more motor designs.
MAN Diesel & Turbo Copenhagen sells licences for the production of their two-stroke motor designs. Over the years, Hoyer motors have been incorporated into several of MAN's motor designs. Now, both parties are taking steps to strengthen their partnership by including Hoyer motors in a number of new designs.
"The expansion of our partnership with MAN is yet another seal of approval for our products and services," says Asger Søllingvraa, Strategic Account Manager, Hoyer.
Same service all over the world
Asger emphasises Hoyer's global position as an important factor behind the expanded partnership between MAN Diesel & Turbo and Hoyer Motors. In Asia, where most of MAN's motors are manufactured by licensed builders – shipbuilders who have purchased the rights to construct motors designed by MAN – Hoyer Motors has an established presence.  This gives Chinese shipbuilders the opportunity to do business locally, while reaping the same benefits of Hoyer's global position, enjoyed by industrial clients in Europe, for instance.
"Regardless of whether the order comes from Europe or Asia, Hoyer delivers the same product, the same level of quality and the same service. Our international presence enables us to guarantee MAN and our other partners that there is no difference between purchasing motors in Europe or Asia," Asger Søllingvraa says.
Hoyer's global presence has contributed to growth in recent years – also in Asia, where the company's growth rate has been over 50% p.a.  As a result of its increasing activity in Asia, familiarity with the electric motor manufacturer is rising – and this, combined with strengthened partnerships with its strategic clients, makes Hoyer optimistic about continued future progress.