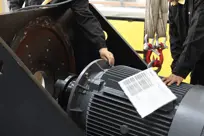 New testing centre in China accelerates classifications
With a new testing centre, Hoyer can now conduct its own tests and classify motors for the maritime industry. This provides a more efficient, flexible and faster testing process.
Before motors used in the maritime industry can be released on the market, they must undergo several thorough tests and be classified by independent inspectors. Until recently, Hoyer was dependent on external testing facilities to test and classify motors, but by opening a new testing centre at the company's Asian headquarters, located in Ningbo, China, Hoyer is now able to conduct this process internally.
"Previously, we had to take a number and queue up, which resulted in longer delivery times and less flexibility. Today, however, we've combined all our testing in relation to maritime classification at our new testing centre, which means greater flexibility and security of supply for our clients," explains Tuomas Bejstrup-Jäppinen, Hoyer Sales Department, which has the primary responsibility for motor classification.
When Hoyer delivers motors to the maritime industry, an 'A test' must first be performed on one version of a specific motor, which is followed by a 'B test', or a routine test for additional motors of the same type. This process results in the desired classification. When a motor has undergone the A test at Hoyer in Ningbo, this means that a similar motor can be delivered directly from the warehouse in Hadsten, Denmark, where the B test can also be performed without further delay, as the approval applies to the motor type in general.

Testing accelerates delivery in Asia and Europe alike
From now on, Hoyer Asia will use the new testing centre to conduct both A and B tests. Hoyer Europe, for its part, will use both the new testing centre and a Danish testing centre for A tests, while B tests will be conducted at Hoyer's Hadsten headquarters.
"The strategy of establishing our own testing centre while continuing to use an external classification partner in Denmark has given the entire classification process greater flexibility, improved quality control and faster classifications. For large-scale projects, this also means we can test the entire project in Ningbo. As such, it is classified and ready to be shipped to the client as soon as it arrives at our warehouse in Denmark," Tuomas explains.
Local process means greater efficiency
The international classification company DNV/GL sees the new testing centre as a clear advantage for Hoyer.
"The testing centre's facilities are great, and the operators are highly skilled. The centre reduces noise and vibrations during the testing phase, which gives us a quality working environment. Finally, the test results are automatically compiled on site, which streamlines the entire process," says Pan Yingjie, Product Manager, DNV/GL China.
Testing motors with a capacity of up to 450 kW
At the new testing centre, Hoyer can conduct its own thorough type tests (known as A tests) which can take 4-5 hours to complete.
"We can test motors with a capacity of up to 450 kW at the new centre, and we're able to test voltages between 110 and 830 V as well as frequencies at either 50 or 60 Hz," Tuomas adds.
Hoyer's testing process:
Professional classification companies monitor and validate the actual testing process, which consists of a series of specific measurement tests:
A visual inspection of the motor to ensure it is not damaged. (Visual Inspection)
Insulation resistance measurements. (Insulation Resistance Measurements)
A high-voltage test. (High Voltage)
A no-load motor test. (No load test)
A winding resistance test. (Winding Resistance)
A bearing test. (Bearing)
A load test. (Load Test)
An overload test. (Overload Test)
An overspeed test. (Overspeed Test)
A temperature rise test. (Temperature Rise Test)