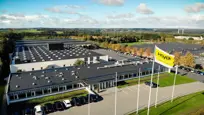 Hoyer marks Chinese anniversary with large-scale expansion
In order to support the massive growth in the number of customers in China, Korea and Japan, Hoyer Motors is investing heavily in Asia. An expansion of Hoyer Motors HQ in Ningbo, China provides better opportunities for new services and solutions. The increase in capacity coincides with Hoyer's 10th anniversary in China.
After several years of stable organic growth, Hoyer's commitment to China and the rest of Asia will now be significantly increased. The investment means that capacity in Hoyer Motors HQ in Ningbo, China will be increased by 50 percent.
"By investing in our Chinese facilities, we are showing our customers and partners that we are ready to support the huge growth potential that exists in China, Japan and Korea. The aim is to ensure that we can bring value to both new and existing customers, because with the expansion we have optimal opportunities for a fast supply chain, high quality and local service and support", says Henrik Sørensen, CEO, Hoyer.
Environmental focus drives growth
To date, the marine industry has been Hoyer's primary market segment in Asia, most recently driven by demand for scrubbers and other marine applications. But in future, there will be increased focus on new segments such as water, industrial pumps and hydraulics. Among other things, Hoyer participates in a Danish trade promotional campaign focusing on clean water and the UN Sustainable Development Goals.
"At Hoyer, we are proud to be part of the development towards environmental initiatives. Due to the environmental requirements for ships, we expect demand for scrubbers to continue to be high - and we also anticipate growth in applications for LNG and LPG tankers.  That is why it is crucial for us that we are already increasing our presence to the next level so that we can help our customers grow at the right pace", says Henrik Sørensen.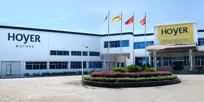 Focus on explosion-proof motors
Part of the expansion in China will support Hoyer's new product range of explosion-proof motors.
"We know that the Chinese, Korean and Japanese shipbuilders in particular will need more explosion proof motors in the future, not least because of the growth in LNG transport at sea. We will be ready to meet the increased demand locally in Asia, including the necessary documentation from our test centre in Ningbo", says Henrik Sørensen and continues:
10 years in China
The expansion of Hoyer's facilities in Ningbo coincides with the 10th anniversary of Hoyer's presence in China. Initially we were located together with other Scandinavian companies in the Nordic Industrial Park in Ningbo, but in 2013 moved to an independent location where there is room to grow.
"Over time, we have expanded by adding various support functions and technical staff, and we can resolve all tasks locally, which is essential for our global supply chain. In our current area in Ningbo, there are good opportunities to recruit skilled workers such as electricians and metalworkers, so that we can maintain the high quality for which Hoyer is known. This is, e.g. the quality that will pave the way for further growth in Asia", says Ketil Vesterlund, CCO, Hoyer, who was responsible for establishing the Chinese division back in 2009.
Hoyer's 10th anniversary will be officially marked on 12 November 2019, where the participants, in addition to business partners in Asia and Europe, will also include guests of honour from the Chinese shipbuilding industry and the Danish Consulate in Shanghai.