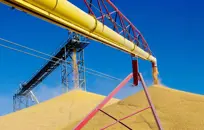 37 kilometres of chains for Egypt
Right now, a total of 37 kilometres of conveyor chain weighing over 600 tonnes is on its way to Egypt to help convey grain at 23 different grain processing plants. The delivery is an exacting affair, where there is no room for any weak links in the cooperation between the customer, Hoyer and Hoyer's Italian chain manufacturer.
Having the right business partner was critical when Hoyer received a query for 37 kilometres of conveyor chain for Egypt in the spring of 2015. Just six weeks after the final agreement was in place, the first delivery of the 600 tonnes of chain was scheduled to take place. But before this could happen, scrapers needed to be welded on, and the chains needed to be approved for the Egyptian plants.
The ideal team
It is not every day you come across a project of this size and complexity. But with more than 40 years' experience with mechanical transmission and a partner with an equal number of years' experience in the production of quality chains, Hoyer was able to put together the ideal team. Peder Mørch, Key Account Manager at Hoyer Transmissions and in-house product expert in conveyor chains, immediately contacted the Italian chain manufacturer ZMC, which Hoyer has worked closely with for many years.
"Chains and chain manufacturing have always been some of our core competencies, and there should never be any doubt about the quality of our products. The chains often have to withstand extreme conditions – from scorching temperatures in industrial ovens to extreme freezing temperatures in cement production in Siberia. That is why we have been working with ZMC for over 30 years," Peder Mørch says.
The Italian connection
Like Hoyer, chain manufacturer ZMC is a family-owned business where tradition and respect for good workmanship go hand in hand with modern production methods and thinking. The two companies work closely together, and ZMC is usually involved as early on in the process as possible for special projects like this one. An example of this is when Hoyer invited the customer to visit ZMC's production facilities in northern Italy.
"It opens up for a specific dialogue on the project's execution when all parties are gathered on the production floor. We have a close, open relationship with ZMC, which means they have thorough insight into our customers and their requirement specifications even before the project has begun," Peder Mørch explains.
Down to the last detail
At ZMC, Technical Manager and co-owner Mauro Mattiolo agrees on the importance of close cooperation between suppliers:
"To succeed with a project like this, it was necessary to take care of every detail from the beginning. The technical specifications, the manufacturing process and the production flow were designed and planned in close cooperation with both Hoyer and the customer to achieve the best possible results. This approach resulted in a particularly successful delivery and meant that we beat some very strong competitors on the market," says Mauro Mattiolo, who appreciates the long-standing partnership with Hoyer.
"Through several decades of close, open cooperation with Hoyer, ZMC has benefited from a reliable partner who continuously offers new business opportunities in the world of conveyor chains. On many occasions, the various departments at ZMC – Commercial, Technical and Production – have been stimulated and motivated to improve from the challenges posed by Hoyer. This applies to everything from commercial aspects to our Technical department and production. Last but not least, a good partnership is also a matter of people, and over the years, both directors and employees of the two companies have enjoyed the pleasure of cooperating with a friendly and reliable business partner.
Delivery facts
The order consists of 37 km of DIN 8167-compliant metric conveyor chains in the following sizes:
M160 (tensile strength 160,000 N);
M224 (tensile strength 224,000 N); and
M315 tensile strength 315,000 N).
All chains include welded scrapers compliant with customer-specific requirements
Total weight over 600 tonnes