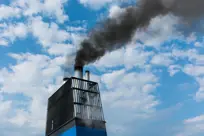 Sulphur requirements send the scrubber market sky high
New environmental rules from the UN maritime organisation IMO mean that shipping companies must now choose between dropping sulphur-rich fuels entirely or having a scrubber installed to clean the emission gas. This is expected to drive the demand for scrubbers to sky-high levels.
A retention of ambitious sulphur requirements and a new ban on sailing with heavy fuel is good news for both the environment and scrubber manufacturers. From March 2020, only those ships that are fitted with a wet scrubber may have fuel with a high sulphur content on board.
At the same time, the IMO's Marine Environment Protection Committee (MEPC), has rejected a proposal to exempt ships without scrubbers from observing the maximum fuel-sulphur content of 0.5%. The decision was made at MEPC's London summit in October 2018, and this is expected to increase the already high demand for scrubbers on both retrofit and new ships.
After the MEPC summit, it is now clear that shipping companies have just two options from 2020: to install a scrubber or switch to fuel with a low sulphur content. Many bigger shipping companies have already signalled that they will invest in scrubbers," says Ketil Vesterlund, CCO at Hoyer.
Ability to deliver is key
In recent years, Hoyer Motors has focused on motors for wet scrubbers making it well-prepared to meet the increased demand. Hoyer's energy-efficient IE2 and IE3 marine motors are used primarily for the large pumps and fans in the scrubber system. Due to its collaboration with market-leading scrubber manufacturers, Hoyer has detailed knowledge of the application and can supply electric motors that comply with the special requirements at extremely short notice. The short delivery times are essential in the scrubber market as the 2020 requirements are getting closer and closer.
Motors for scrubbers must be able to handle a maritime environment and the effects of moisture and salt water. They must also be prepared for variable speed drive. This means that they need to have a higher insulation class on the winders and insulated bearings to protect against bearing current," says Ketil Vesterlund, who continues:
The ability to deliver quickly and also be flexible in terms of the final technical specifications is a necessity, as this is a market where time is often one of the most important competitive parameters for our customers."
Quick classification
Besides a large inventory of scrubber motors and the option to convert motors to meet special specifications, Hoyer Motors also works closely with maritime classification companies such as ABS, DNV GL and BV. This is crucial for a smooth delivery of classified electric motors for maritime use.
"Whether a scrubber is assessed as being an essential or non-essential part of the ship can have a huge impact on the motor requirements, and this can vary from company to company. If it is essential then the ship mustn't sail if it doesn't work. This can mean huge expenses for the shipping company. We have good working relationships with the classification companies, where we join forces to find the right solution to ensure speedy, flexible delivery. We expect to further strengthen this by virtue of our new testing centre in Denmark," Ketil Vesterlund concludes.