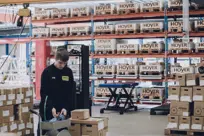 Big savings – with the right packaging
A flexible and efficient packaging solution largely explains why the German company Voith Turbo H + L Hydraulic chose Hoyer to be its supplier.
When the German manufacturer of hydraulic systems Voith Turbo H + L Hydraulic chose Hoyer to be their supplier of electric motors, their decision was based on more than just price and quality. The specific packaging in which the motors were delivered was also an important factor. Ideally speaking, motors should be able to be transferred from the goods reception directly to the assembly line. At the same time, returning the empty packaging should preferably not entail high costs.
"We were looking for a new supplier of three-phased electric motors for our production of hydraulic pump units. Hoyer's product portfolio was exactly what we had hoped it would be; so the logistics were one of the most significant challenges. This was especially relevant, since we couldn't recycle our existing packaging system for logistical and economic reasons," says Nico Lautenschlager, Voith Turbo H + L Hydraulic.
Wooden pallets instead of plastic boxes
Previously, a local producer delivered motors to Voith's facility at Rutesheim near Stuttgart in moulded plastic crates. Now that the motors were travelling over a thousand kilometres from Hoyer's warehouse in Denmark, it was essential to minimise the logistics costs – also in terms of returning the empty packaging. In this respect, Hoyer's flexible packaging solution based on EUR pallets was perfect.
"This logistics solution is based on a standard EUR pallet. A number of spacers keeps the motors in place on the pallet after which they are tightly strapped to protect against being damaged in transit. The motors are further protected by pallet frames that are adaptable to the height of the motor. Up to three motors can be transported on a single EUR pallet and multiple pallets can be stacked on top of one another. When the packaging is returned it can be folded which minimises Voith's transport costs," remarks CCO Ketil Vesterlund, Hoyer.
Besides practicality, there are some environmental aspects behind this packaging solution. All pallets, pallet frames and spacers are made of wood and can be reused, with a service life of up to 18 months in the rotational system between Voith and Hoyer. This makes the environmental impact far less than the previous solution.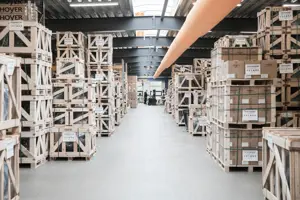 Directly for assembly
The system can be used for various motor sizes and types because of the loose spacers used to hold the motors in place. Moreover, it is particularly well-suited to serial production, where speed and optimal workflows are vital.
"We remove the frames upon receiving the goods from Hoyer and place them straight in the return store; the pallets containing the motors can then be sent directly to the assembly line. This streamlines their work flow and we don't have dedicate staff to unpacking and preparing the motors first. Similarly, we optimise space requirements in the goods receiving area," Lautenschlager explains.
Facts: Voith Turbo H + L Hydraulic
Part of the Voith Group.
Voith is one of the largest family-owned businesses in Europe generating turnover of EUR 4.3 billion and having 20,000 employees in over 60 countries. Of these, around 200 work at Voith H + L Hydraulic in Rutesheim, Germany.
Voith Turbo specialises in hydraulic units, couplings and brake systems for use in roads, railways, industry and maritime propulsion systems.