Warehouse and workshop
Our logistics setup in Europe and Asia is the backbone of our company. Not only because it ensures delivery performance and flexibility, but also because of the comprehensive quality assurance that all shipments must undergo.
27,000
different types of in-house modifications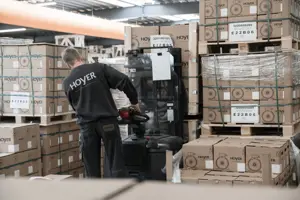 Warehouse
The large warehouse facilities in Denmark and China are one of the reasons why we can guarantee fast delivery to all markets. At a time when most companies are focusing on reducing their stock levels, we have chosen to go in a different direction. In many cases, you can even say that we are our customers' warehouse. With more than 70,000 motors in stock, we are almost always able to deliver directly from stock.
As well as logistics and delivery, the warehouse plays an essential role in out quality setup. All shipments are checked before they are sent to customers for the simple reason that thorough checks and tests minimise the risk of errors.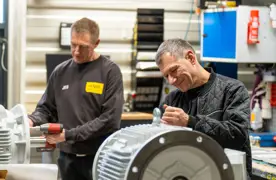 WORKSHOP AND ASSEMBLY
Our specialised workshop has two overall goals, which are to modify standard products according to customer-specific requirements and to ensure a flexible stock.
The following shows typical motor conversions and modifications:
Bearing
Heat band/standing heat
Tropical insulation
Customised rating plates
Protection classes IP56, IP65, IP66 and for mounting on an open deck
Current-insulated bearings and other special bearings
SPM nipples - vibration monitoring
Forced ventilation IEC 416 and TENV IEC 410
PT100 sensor
Thermistor and bi-metal
Rain cover for V1 installation
Installation of integrated VFD
Flying leads
Explosion class II 3G Ex nA IIC T3/II 3D Ex tc IIIB T120
In addition to this, we can modify our explosion proof ATEX motors Exd and Exde.
Watch videos of some of our modifications below.

Installation of integrated VFD