Our environmental approach
As part of the global manufacturing industry, we are aware of our social responsibility and environmental footprint. Electric motors consume 30% of the world's energy, meaning that there is great potential to pursue more sustainable developments.

Goal 7: Sustainable energy
We need to change the way that we generate and consume energy. At Hoyer, we are ambitiously working to reduce energy loss by providing motors with a high energy class and by providing solutions that include frequency converters which optimise energy consumption. 
Goal 8: Decent work and economic growth
We ambitiously work to ensure a safe and health working environment, both internally at Hoyer and by exerting our influence on our key suppliers. Internally, we are simultaneously focused on creating diversity in terms of nationalities, cultures, gender and people with a disability. 
Our suppliers are located around the world, and externally, we work closely together with them to ensure that no forced labour or child labour occurs.
Goal 9: Industry, innovation and infrastructure
We wish to promote sustainable industrialisation and promote innovation. In close collaboration with our customers, we offer retrofitting solutions in which we aim to improve efficiency and how resources are used – saving energy along the way. 
We also focus on transporting our products directly from our suppliers to our customers. We optimise our internal infrastructure and save fuel in the process.

Environmental
Environmental approach
As a global supplier of energy-efficient electric motors and drives, we acknowledge and respect our responsibility. Our activities around the world have the potential to make both a positive and a negative environmental impact.

Social
Social approach
By developing and supporting our employees, we participate in building a better tomorrow. A sustainable future.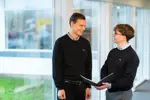 Governance
Governance approach
We aim to be a trustful, open and transparent undertaking – which must be reflected in our governance structure. 


Through a deep understanding of our customers applications, long-standing partnerships and skilled, expert employees, we aim to actively take part in the green transition. Find our ESG (CSR) reports here read more about Hoyer as an Environmental Challenger ...
Find the ESG reports here