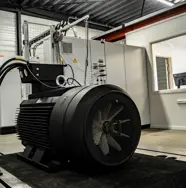 New European testing centre offers shorter lead times and greater flexibility
A new Hoyer testing centre in Denmark will offer shorter lead times and faster classification of electric motors. The new testing centre will work closely with Hoyer's Chinese testing centre to ensure quick and efficient servicing of the entire international value chain.
In order to infuse more flexibility and faster documentation into its collaboration with customers, Hoyer Motors has invested a large million kroner sum in a new testing centre in Hadsten, Denmark. Once the testing centre is fully operational in December 2018, then Hoyer will also be able, at short notice, to test and certify electric motors of up to 1000 kW in Europe.
The testing centre is a natural extension of Hoyer Motors' strategic focus on its customers in the important market segments: Marine, Water, HVAC, Hydraulics, Oil & Gas and Wind. In recent years Hoyer has launched several initiatives to make it more attractive for this very target group.
Hoyer's electric motors are used in critical applications on board ships, in wind turbines and on oil rigs, so it is crucial that the producers and their customers can trust the quality of the motors to be able to handle the specified requirements. This is absolutely essential for signalling that we are a serious business and instil trust," says Henrik Sørensen, CEO, Hoyer.
Time is a competitive parameter
By undertaking the testing itself rather than using a third party, Hoyer gains more control over the process, greater flexibility and a potential to reduce the delivery time. Time in particular is a crucial competitive parameter, assesses Henrik Sørensen:
"Flexibility and delivery time are crucial for our customers. We want to make a name for ourselves at the top of our segments, which requires, among other things, the facilities and the expertise that are provided by the new testing."
The testing centre will also give Hoyer an opportunity to invite customers to observe the various tests being conducted. The same applies to the collaborative partners from maritime classification companies such as ABS, DNV GL and BV, where Hoyer already works closely with their surveyors.
Lessons learned from China
The new testing centre builds on the same principles as Hoyer's existing testing centre in Ningbo, China, and the two centres will be working closely together to ensure quick and efficient servicing of Hoyer's international value chain.
We are a global company and our customers operate around the world. This is why we consider it natural to be able to conduct testing in both Asia and Europe. We can transfer many lessons learned in China to Denmark, and the two sites must operate concurrently as a combined unit with shared resources and competences. This makes us less vulnerable during peak periods and affords better opportunities for skills development," Henrik Sørensen says.
Potential for testing with and without loads
Initially the new testing centre will be able to conduct no-load tests on motors up to 1,000 kW, with a voltage up to 830 volts and at frequencies from 10 to 120 Hz. During 2019, the capacity will be extended to allow for full-load motor testing and testing of medium voltage motors with voltages up to 13,200 volts.
Facts about the new testing centre in Hadsten, Denmark
From December 2018, the testing centre will be able to conduct:

Non-loads up to 1,000 kW/ 830 volt/ 120 Hz
Vibration testing in accordance with IEC60034-14
High voltage testing in accordance with IEC60034-1
Testing of insulation resistance up to 1000 V DC
Measuring of winding resistance

Over the course of 2019, the testing possibilities will be expanded to include high voltage tests (up to 13,200 volt), motor tests with load (full-load) up to 315 kW, temperature tests and curve measurement of speed torque and performance.
The new testing centre will supplement Hoyer's existing testing centre in Ningbo, China.
The testing facility is a central part of Hoyer's strategy of strengthening the collaboration with the market-leading manufacturers of applications such as pumps, ventilation systems and HPUs within select market segments.