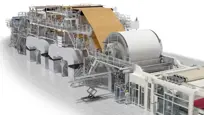 Paper innovation creates new opportunities
Paper production is a complicated process where high-tech production lines make high demands on pumps, electrical motors, ventilation and various other applications. We provide insight into an industry where frequent innovation in production methods and products brings profitable opportunities for machine equipment suppliers.
Even if the first sheet of paper was made before the Pyramids and the Great Wall of China were built, the paper industry is far from old-fashioned. Modern paper production is a complex, high-tech affair in which raw materials are processed and shaped in a long series of processes, before ending up as printer paper, packaging or special products. Therefore, the industry constantly needs new applications – from pumps, hydraulics and vacuum systems to electric motors – and Hoyer now supplies several European paper manufacturers.
Comprehensive production
The main ingredient in paper is raw timber from deciduous and coniferous trees, which is chopped into wood chips and transported to the paper mill. Here the wood is boiled and processed with chemicals to produce a paper mass, also known as pulp. The treatment means that the cellulose fibres in the wood can be separated and mixed with water and different additives. The pulp is then dried on wire netting, and the remaining water is evaporated away by heat. The result is raw paper, which can now be finished depending on its purpose, and run on rollers or cut into sheets.
A paper machine contains over a thousand different electrical components, from kilowatt to several megawatt. They are part of an integrated production, which uses a lot of pumps. Making paper is a lengthy process, and the machine must be able to operate round the clock without interruption," explains Ewald Harrer, Country Manager, Hoyer, Germany. He has more than 25 years' experience in selling machinery to the pulp and paper industry and has extensive knowledge of the industry.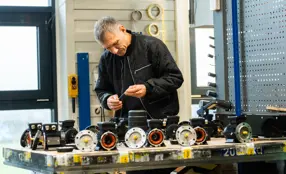 A greener direction
In recent years the paper industry has moved in new directions, both in response to changing demand and as part of a keener focus on climate and the environment.
"A great deal of the innovation we see in the paper industry is spurred by a desire to move in a greener direction. Paper production is energy intensive, and manufacturers are very interested in reducing their energy consumption by using more effective applications. For example, the process uses vast quantities of water, as much as 100 litres per kilo of paper. A large part of this could be recycled, to reduce the amount of wastewater produced," Ewald Harrer says.
Paper suit protects against fire
Product development is also a significant driving force for innovation in the paper industry. And manufacturers are good at finding brand-new uses for paper products.
Today, pulp and paper are used for a wide variety of purposes. Such as an interior facing material in passenger cars. It is also possible to make fireproof suits that are used to protect fire-fighters. This product innovation creates a constant need for new production methods and machines," Ewald Harrer says.