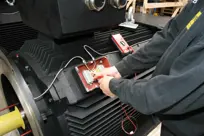 700 kW of raw power
In late summer Hoyer manufactured the largest low-voltage motors in the history of the company. Logistical customisation, administrative patience and extensive expertise formed the trinity behind the huge project.
With a weight of 3.5 tonnes each, Hoyer has made its mark as a supplier of large low-voltage motors to the international market. At the beginning of September the company was able to deliver three of the large motors to a customer in Norway.
Special containers and lifting gear
Specifically, the motors are pump motors yielding 700 kW each. The motor type is construction size 450, i.e. 140 centimetres high and 220 centimetres long in this case.
"These are the largest motors we've delivered in the history of Hoyer. This also resulted in a few logistical challenges throughout the process. As an example, we did not have any lifting gear that could handle these dimensions, and the motors had to be shipped to the customer in specialist containers," explains Loke Svendsen, Country Manager at Hoyer.
Bigger dimensions – more paperwork
There is also a great deal of administrative work associated with the manufacture of such large motors. When a new project is launched, new documentation and testing are naturally required. The project, comprising Hoyer Motors' largest low-voltage motors to date, is somewhat more complicated as the end user of the pumps is Russian. The motors must therefore be classified in accordance with RMRS – the Russian classification society.
"This meant that we needed to enter a type approval process for the individual motors. And dealing with such large motors requires additional paperwork to be prepared even before we can test them," Loke Svendsen says.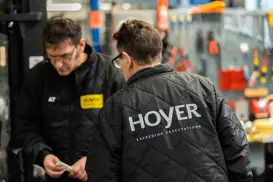 A global door-opener
But the delivery of the large motors has not only meant that Hoyer Motors has been given opportunity to gain experience in manufacturing and paperwork.
"We've not been able to offer such large motor sizes to our customers previously as we lacked the expertise to manufacture them. But over the last five years we have gained a lot of experience in this area. And seeing that we will now be able to use the three large motors as reference projects, it will give us better opportunities to contribute technical know-how and act as a professional sounding board for companies that use motors of this size. So the project will undoubtedly open doors on a global level," Loke Svendsen points out.