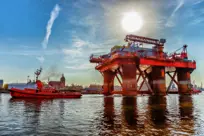 Learn more about paint systems
Electrical machinery, gears and other metal components used in harsh or exposed environments can sometimes require extra protection. The correct surface treatment prolongs service life and reduces the risk of corrosion.
Salt, chemicals, damp and pollution. These are just some of the factors that cause metal objects to degrade. Where machinery is exposed to severe conditions, it will generally require a special coating to protect it from corrosion. Examples are a pump that stands in a damp factory environment, a motor at the top of a wind turbine or a crane working on the deck of a drilling platform.
The right choice
Often, a protection class will be specified and the application must adhere to the relevant requirements. The protection class applies to the entire structure, and will depend on parameters such as the type of metal used, the surface structure and maintenance intervals. Where any doubts arise as to the requirements for coating and surface treatment, it is always a good idea to seek expert advice or information from the end user.
C classification and NORSOK M501
The most commonly used standard for determining the degree of protection a surface treatment must provide is ISO 12944. This has been specially developed to calculate the corrosion factor of large steel constructions in exposed environments. NORSOK M501 has been developed by the Norwegian oil industry for similar reasons.
Both standards are based on flat metal surfaces rather than complex shapes, such as motors or cranes. Therefore, estimates will always be involved in relation to achieving the correct degree of protection.
ISO 12944 provides five general classifications of corrosivity, on a scale from C1 to C5. For environments classified as C3 and above, extra surface treatment will generally be required. However, this depends on the standard treatment used on the application.
Corrosion categories
Exterior environment
Interior environment
C1 - very low
–
Heated buildings with clean atmospheres, e.g. offices, schools or hotels.
C2 - low
Atmospheres with low levels of pollution, mostly in rural areas.
Unheated buildings where condensation may occur, e.g. warehouses.
C3 - medium
Urban and industrial environments, moderate sulphur dioxide pollution. Coastal areas with low salinity.
Factory buildings with high humidity and air pollution, e.g. food processing plants.
C4 - high
Industrial and coastal areas with moderate salinity.
Chemical plants, swimming pools, boats and coastal shipyards.
C5 I (industrial) - very high
Industrial areas with high humidity and aggressive atmospheres.
Buildings with almost permanent condensation and high pollution.
C5 M (marine) - very high.
NORSOK M501 is equivalent to this classification.
Coastal and offshore areas with high salinity.
Buildings with almost permanent condensation and high pollution.
How often does maintenance take place?
Besides environmental factors, the expected maintenance interval for the final structure is of importance for the choice of surface protection treatment.  For example, a construction that is not easily accessible, such as an offshore wind turbine with a long maintenance interval, will require a different degree of protection to that of an industrial pump on land, where maintenance work is easier to perform.
ISO 12944 provides guidance on the degree of durability the surface treatment must provide, specified according to the following maintenance intervals:
Low: 2 to 5 years
Medium: 5 to 15 years
High: more than 15 years
On determining the environmental effects and maintenance intervals applicable to the structure, the degree of required protection can be calculated. For example, an outdoor offshore application with a maintenance interval of 10 years must comply with the C5-M degree of protection.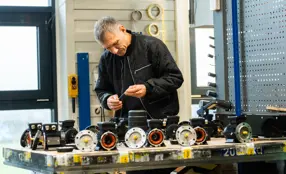 Coating thickness isn't everything
The surface treatment systems on the market consist of precisely composed priming, intermediate and finishing coats. A specific degree of protection may be achieved in different ways; specialist technical and chemical expertise is required in order to achieve the optimal protection.
There may be significant variations in surface treatment composition from one manufacturer to another in their use of primary and other coatings, depending on the structure. In other words, it is not enough simply to stipulate a certain thickness for a surface coating, since this does not provide the true picture of the treatment's compliance with protection requirements.
More options
In connection with extra requirements for surface treatment, it is generally possible to choose between a number of options, for example:
Surface treatment reports
FROSIO inspection of surface treatments
Inspection of coating thickness
Testing of the surface treatment's resilience to various factors and environments