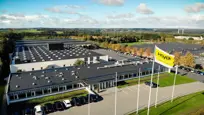 The Hoyer Group's 2020 profit show promising growth in niche markets
Hoyer Group experienced growth in several strategic niche markets in 2020. A combination of COVID-19 and historically low oil prices caused turnover to decline, however. At the same time, the year marked the divestment of Hoyer Transmissions.
In 2019, Hoyer Group achieved the best result in the company's history. A flourishing market for scrubbers, coupled with a number of strategic initiatives triggered these developments.
"Like many other companies, the Hoyer Group ran into unexpected challenges in 2020, and the financial result does not meet the high expectations arising from the record-setting year of 2019. That said, I'm pleased that Hoyer Group entered 2021 from a strengthened strategic position in both existing and new market segments. The consolidated strategic focus is further underpinned by a successful divestment of Hoyer Transmissions," says Søren Ø. Sørensen, chairman of Hoyer Group's board of directors, adding:
"The management and staff constructively addressed the challenges arising from COVID-19, and strengthened the company by taking innovative, creative initiatives."
In spite of a year of challenges and restrictions, Hoyer Group succeeded in increasing the level of satisfaction among customers and staff alike.
"From day one, we've been continuously focusing on communicating with and providing information to our customers, as we are integral to their supply chains. When you combine this with our employees, who have demonstrated their commitment and an impressive adaptability, this has undoubtedly helped boost our customers' satisfaction. We're very optimistic about our prospects for 2021, and we expect both sales and turnover to grow," says Henrik Sørensen, CEO, Hoyer Group.
Environmental development and digitisation
In spite of a turnover decline in 2020, the net financial result increased by 18% due to the divestment of Hoyer Transmissions. Our powerful financial position has enabled us to invest in new initiatives that will further underpin our growth strategy.
"In 2020, we experienced a positive trend within our niche segments, such as the wind industry, LNG carriers and deck machinery. The wind market is a good example of our strategic focus on the green transition where we have notably invested in a US setup in order to support the growing US market. In addition, we have widened our product range of energy efficient products as part of our green solutions. Our previous results show promising potential, both environmentally and financially," says Henrik Sørensen, CEO, Hoyer Group.
Based on our 2020 financial result and future ambitions, Hoyer Group has decided to embark on an outstanding new digital journey.
"Hoyer Group has massive potential within the selected market segments. This explains why we're accelerating the implementation of our strategy plan to boost our global market position by infusing our customers with substantial value and providing high quality, reliable delivery results and competitiveness. To support this journey, we're investing an amount running into the double-digit millions in new ERP and CRM systems," concludes Søren Ø. Sørensen, Chairman of the Board, Hoyer Group.
Hoyer Group, 2020 financial highlights
Turnover: DKK 462 million
Net profit: DKK 57.3 million