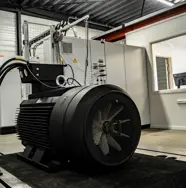 New opportunities in Hoyer Motors' Danish testing centre
Hoyer Motors has made additional investments in the internal testing centre with a wider range of testing and multiple services.
In 2019, Hoyer Motors opened an internal testing centre at its Hadsten headquarters. These facilities have now been updated to include new load tests and a heat-run test. These new testing services will particularly benefit Hoyer Motors' marine, wind, oil and gas markets.
"The launching of the new load tests enables usto develop prototypes together with our wind customers, among other things. This can reduce their time to market when testing and developing new products," says Thomas Vase, Technical Manager, Hoyer.
Technical partnerships
Hoyer Motors experiences more rigorous customer requirements for technical documentation in several niche markets, and investing in testing possibilities is part of Hoyer's overarching strategic focus. By providing internal testing, Hoyer Motors is not dependent on external testing. This makes it possible to provide high-quality technical documentation, if so preferred.
"At Hoyer Motors, we focus on developing technical partnerships with our customers, and making further investments in our internal testing facilities is part of this focus. In so doing, we further improve our service and flexibility vis-à-vis our customers," says Henrik Sørensen, CEO, Hoyer.
In addition to the testing centre in Hadsten, Hoyer also has an internal testing centre at its facilities in Ningbo, China. The two centres collaborate closely on delivering testing data and ensuring fast and efficient servicing of their customers.
Testing area pursuant to IEC 60034-2-1
Load test up to 315 kW
Briefly up to 350 kW
Load test up to 120 Hz
Heat-run test
Torque output
Performance curves