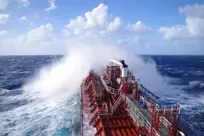 All deck motors: Withstanding the salty seas requires sturdy equipment
From loading cranes to mooring winches. Deck machinery is crucial to ships of all types and dimensions. And in order to withstand salt-water spray, the components of this essential marine equipment must be just as robust and the sailors who operate them.
If you go onto the deck of a seagoing vessel, it probably isn't difficult to catch sight of deck equipment with an electric motor inside. The deck machinery on fishing vessels, tankers and large TEU container ships perform a wide variety of tasks, both while in port and on the open seas.
Loading cranes and pumps load and unload everything from soybeans to liquefied natural gas (LNG). The offshore cranes and disembarkation systems on industrial vessels make it possible to support and maintain offshore installations such as wind farms and drilling rigs. Reliable winches and capstans maintain tension on mooring lines, raise anchors and pull up fishing nets and trawls filled with the day's catch. The requirements for deck machinery are widely different and solutions often need to be adapted. It is important to know the exact situation and use before drawing up the specifications for an electric motor.
Seawater corrodes motors
The marine environment requires sturdy, durable equipment which prompts shipowners to prioritise high-quality machinery. Primarily this means that the mechanical components are well protected against the unavoidable seawater spray. The actual threat is not the water itself but the salt, as Maarten de Beun, Hoyer's Sales Manager for Deck Machinery, explains:
"The pressure from the marine conditions, particularly seawater, ruins the equipment because the salt eats through everything. You can wipe off a motor that is drenched in fresh water and still make it work, but if a motor is drenched in seawater, it's finished. Therefore, you should never rely on a standard industrial motor for any type of marine purpose. Instead, you should choose one that is specifically manufactured for marine purposes.
Prepare your deck machinery for the right environment
To avoid the risk of damage arising from salt exposure, a marine motor must always have a high protection classification rating such as IP56 or higher. Special paint systems are often required depending on the installation area, such as C5 pursuant to ISO 12944 or Norsok M-501. In addition to the general precautions, you must also take account of the exact load and operating environment when designing deck machinery.
"The requirements for marine machinery can be vary widely, depending on the vessel and the intended use. As shipping gradually increases in the Arctic regions, we are experiencing a rising demand for motors that can operate in temperatures all the way down to minus 40–50 degrees Celsius, particularly for shuttle tankers navigating Arctic waters. Also, we recently developed a complete range of explosion-proof ATEX motors for the marine market. In the area of deck machinery, these motors are particularly relevant for cargo pumps and compressors on board tankers and LPG carriers conveying combustible cargo," Maarten de Beun says.
Other relevant products include a terminal box for use on an open deck. The terminal box is custom-made to avoid water penetration through the cover or cable connection bushes. It has a special cover for the encoder to protect the electronics and reinforced bolts and packing joints.
Hoyer's products for deck machinery
Hoyer has a wide selection of marine motors that are adaptable to every specific marine environment or purpose, including installation on an open deck.
Standard marine motors: IE1, IE2, IE3, IE4 efficiency
Marine brake motors
Explosion-proof marine motors: certified to ATEX and IECEx standards
 Typical areas of use for deck machinery